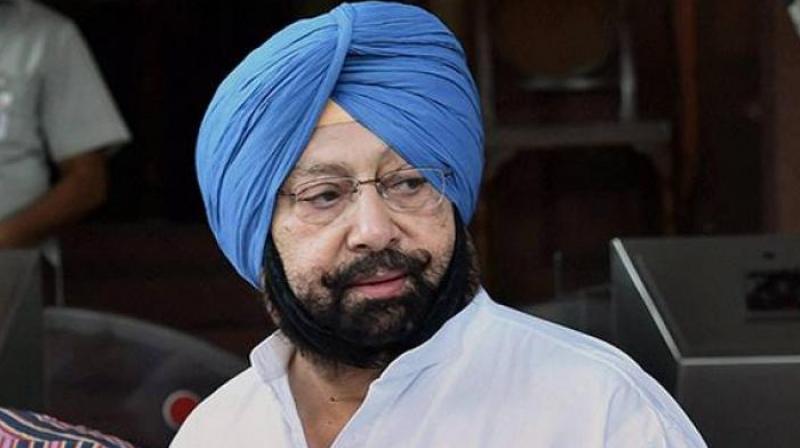 Captain Amarinder Singh
Chandigarh: Punjab Chief Minister Captain Amarinder Singh today will conduct an aerial survey of the flood-affected areas of Sangrur and Patiala districts.The two districts have been flooded due to a breach in the river Ghaggar following heavy rains over the past few days. The Chief Minister will fly over the affected areas to assess the extent of damage caused to the standing crops in the villages of tehsil Moonak in Sangrur and Badshahpur in Tehsil Patran of Patiala district. 
 According to an official spokesperson, the Chief Minister would first visit the flood hit villages of tehsil Moonak to gauge the loss caused to the crops followed by a public meeting in Dana Mandi Moonak after interacting with the Civil and Police officials of Sangrur district. He would then fly to Badshahpur for an aerial survey, followed by a meeting with the officials of civil and police administration of Patiala district at Dana Mandi, Badshahpur. 
He will be accompanied by a team of senior officers of Revenue & Rehabilitation as well as Water Resources Departments. Earlier, on the directives of Captain Amarinder, Financial Commissioner Revenue KBS Sidhu on Monday visited the breach site at Village Phulad in Tehsil Moonak of District Sangrur. He took stock of the situation and assessed the extent of damage as well as ongoing relief and reparation operations.
He later apprised the Chief Minister that three villages - Bhunderbhaini, Surjanbhaini and Salemgarh - were affected by the breach, causing agricultural land to be inundated. However, the settlements were not affected. He further said the village of Surjanbhaini appeared to be at risk of being marooned. The district authorities had made adequate preparation both for the plugging operations as well as the relief operations for these settlements.
The FCR also told Captain Amarinder Singh that he met with the officials of district administration/police, army authorities on site, local residents, and volunteers, and interacted with them at length. He assured the local residents of all possible assistance in strengthening the embankment, for which the local residents had offered to provide 20 feet of land without any compensation, on both sides.
The Financial Commissioner also said he had directed the district authorities to complete special girdawari as soon as the water level recedes.