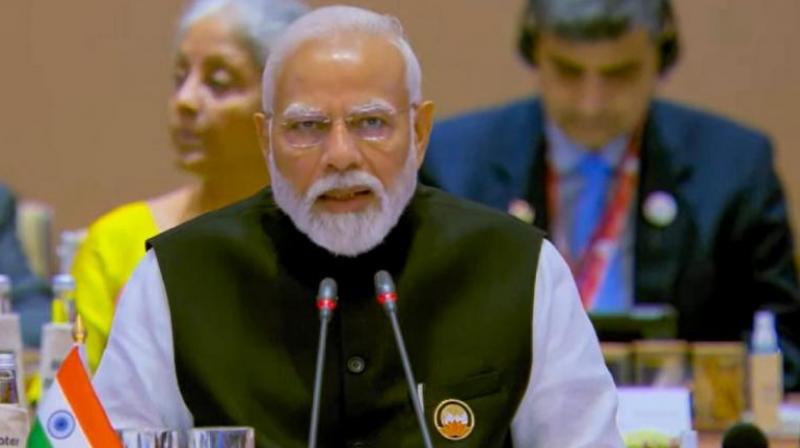 PM Modi
Calls for Expansion of UN Security Council and Addressing Cryptocurrency Concerns
NEW-DELHI: Indian Prime Minister Narendra Modi strongly pressed for reforms within international organizations, emphasizing the need for an expanded United Nations Security Council (UNSC) and adjustments to adapt to the "new realities" of the world. He asserted that these shifts are essential to align international structures with the evolving global landscape, as natural laws remain constant, but their relevance evolves over time.
During the closing session of the G20 Summit, PM Modi proposed convening a virtual session in late November to evaluate the progress made on the decisions made during the summit. He symbolically passed on the G-20 presidency to Brazil, which will assume leadership on December 1 this year.
--  Cybersecurity & Cryptocurrency
In his address, PM Modi underscored the significance of cybersecurity and cryptocurrency in shaping the present and future world. He described cryptocurrency as a new frontier impacting social order, monetary and financial stability, and called for the development of international standards to regulate it. PM Modi expressed concerns about cryptocurrency serving as a source of funding for terrorism, emphasizing the need for global cooperation and infrastructure to secure cyberspace.
-- Artificial Intelligence (AI)
The Indian Prime Minister also highlighted the importance of Artificial Intelligence (AI), emphasizing a human-centric approach rather than a purely GDP-centric one. He expressed India's willingness to share lunar mission data for the benefit of humanity, showcasing their commitment to human-centric development.
-- Globat Organisation Reforms
Furthermore, Modi's call for global organization reforms found support from Brazilian President  Lula da Silva, who echoed the need for new developing countries to become permanent and non-permanent members of the UNSC to enhance political representation. Dr. Silva also advocated for increased representation of emerging countries in institutions like the World Bank and the International Monetary Fund (IMF).
During the G20 Summit, India secured unanimous consensus on developmental and geopolitical issues in the declaration, which emphasized respecting each country's territorial integrity and the principle of sovereignty, avoiding explicit mention of the Russian invasion of Ukraine.
In the 'One Future Session' of the G20 Summit, PM Modi renewed his emphasis on global organization reforms, emphasizing the importance of aligning these institutions with the contemporary world's realities. He pointed out that the UNSC's composition, with its five permanent members (United States, China, France, Britain, and Russia), has remained unchanged despite evolving global dynamics.
The G20 Summit received praise from world leaders, with US President Joe Biden commending the group's ability to address critical issues and French President Emmanuel Macron acknowledging India's successful presidency in a challenging global environment.