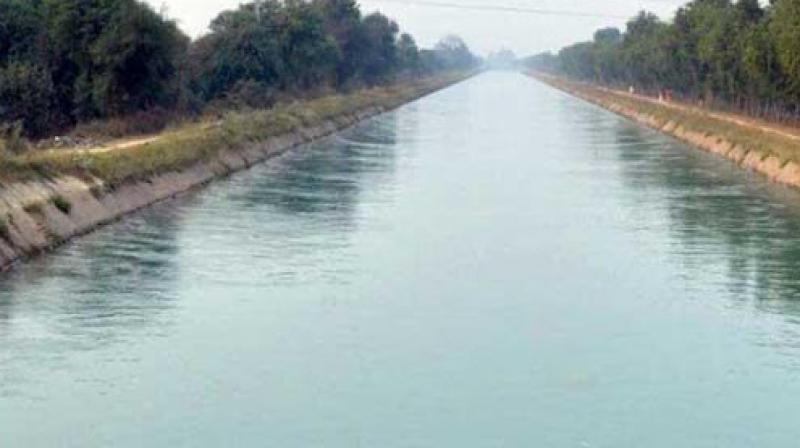 Photo
SAYS LOKPAL BILL TO BE TABLED SOON, TO COVER ALL RANKS FROM CM DOWNWARDS
CITES SUCCESS OF GOVT ON ALL COUNTS, IN SHARP CONTRAST TO PREVIOUS SAD-BJP GOVT
Chandigarh: Punjab Chief Minister Captain Amarinder Singh on Wednesday said he was ready to give up his life rather than give the state's scarce water resources to other states.
Wrapping up the debate on the motion of thanks on the Governor's address, the Chief Minister declared that Punjab did not have surplus water and, in line with internationally accepted riparian principles,  would not allow transfer of water from basin to non-basin areas.
His Government had made every possible effort to achieve this and shall continue to work in for protecting the water rights of Punjab, to ensure the livelihood of millions of Punjabi farmers and landless farm labourers, said the Chief Minister, pointing out that protecting the state's water was a top priority for his government, as per the 'Nawen Naroye Punjab Layee Captain De Naun Nukte' (nine points of Captain for rejuvenated Punjab) based on the party manifesto released during the 2017 Assembly polls.
Expressing immense satisfaction over his government's overall performance in the past three years, the Chief Minister said they had achieved major success on all fronts, including elimination of drugs from the state, maintaining law and order, ensuring Ghar Ghar Rozgar, debt waiver scheme for farmers besides providing affordable Bijli, Paani and Safai Suraksha for trade, business and industry.
Apart from these, initiatives like reservation of 50 percent seats for women in PRIs and ULBs, free housing for homeless families belonging to Scheduled Castes and other weaker sections, enhanced reservation of 15 percent in educational institutions to economical weaker sections besides raising the eligibility income limit from Rs. 6 to 8 lakh and appointment of 4300 Guardians of Governance (GoGs) from amongst ex-servicemen to oversee the execution of all socio-economic development programmes had been widely appreciated by one and all, said Captain Amarinder.
Referring to the various measures taken by his government for saving the State's precious water resources, the Chief Minister said that apart from enactment of the Punjab Water Resources (Management and Regulation) Act 2020, the government had also piloted a unique project namely 'Pani Bachao Paisa Kamao', aimed at incentivizing farmers to save water and earn money by consuming lesser ground water. The project, under which agriculture consumers are given a fixed electricity entitlement for every month of the year and no bills are issued to the farmers, will be expanded under the Budget 2020-21, he said.
The Chief Minister further said his government would complete the Shahpur Kandi Dam Project in 2022-23  and would also make every possible effort to complete the Kandi Canal, along with attendant water courses, by providing requisite finances during 2020-21.
Underlining his government's commitment to transparency in governance and accountability in public services, the Chief Minister announced that they had decided to enact a new Lokpal Legislation, likely to be tabled in the House soon. The legislation will cover all officials, right from the CM downwards, he added.
Captain Amarinder termed as insufficient the free housing for homeless families belonging to SC and other weaker sections, and said his government was now working to restructure its policies and programmes to ensure not only that every houseless household in the State has a house, but he or she has a pucca house.
On the issue of women empowerment, for which 50 percent of seats had already been provided in PRIs and ULBs, the Chief Minister said his government was now working on a state-wide women development programme for financial and economic security of all women headed households in the State. 
Referring to the Mahatma Gandhi Sarbat Vikas Yojna (MGSVY) to ensure that benefits of government's socio-economic programmes reach the deserving beneficiaries, the Chief Minister disclosed that so far 10.69 lakh people had benefitted, which was in sharp contrast to the previous SAD-BJP government, which had in fact misappropriated the benefits of poor to their party cadres.
The Chief Minister listed various other unique initiatives of his government, including the Smart Village Campaign (SVC), under which Rs 818 crore of the Rs 1000 crore allocation had been spent on 16011 development works in the villages. The programme would be expanded further in the next two years, he said.
Listing the success of the Mission Tandrust Punjab, Captain Amarinder said strenuous efforts had been made under the Mission not only to check food adulteration and water contamination but also the superfluous use of fertilizers and agro-chemicals by the agriculturalists. The government had also reduced consumption of Urea fertilizer by 4.48 lakh metric tonnes and consumption of DAP by 1.83 lakh metric tonnes, resulting in saving of Rs. 704.51 crore as input cost of the farmers.
On the critical issue of stubble burning, the Chief Minister said his government had spent Rs. 525 crore on 56,000 crop residue machines during the last three years,  for effective crop residue management. 
The number of Health and Wellness Clinics would be further taken up from 1369 to 2000 by the end of next month, thus ensuring health for citizens from birth, on the lines of advances nations such as UK and Canada, he added.
Speaking about MGNREGA, the Chief Minister said that his government had achieves results that were three times better than the previous regime, having spent over Rs. 600 crore every year as compared to about Rs. 200 crore per annum spent by them. His government had generated 634 lakh man-days during the last 3 years as compared to 844 lakh man-days generated by the previous government during the last 10 years, he added.
In the past three years, said Captain Amarinder, his government had made major strides in repairing the rural link roads and had now decided to revisit the policy to construct new link roads and provide for pucca rasta to all those habitations/ basties which have a minimum population of 25 persons as also to provide for phirnies across the villages. 

On the issue of rural drinking water and sanitation, open defecation free status had been achieved for all villages and provision of potable drinking water had been completed in all the rural habitations of the state, said the Chief Minister.
He also expressed satisfaction over the hike and successful disbursements of the Old Age / Widow Pension, pointing out that while the previous government spent Rs.550 crore per annum, his  government was spending over Rs.1500 crore per annum to disburse pensions to all eligible persons, the number of which has gone up from 17,35,351 in March 2017 to 23,90,456 in December 2019. 
The Chief Minister termed the Sarbat Sehat Bima Yojna as a unique achievement of his government, which is providing a comprehensive health insurance cover of Rs. 5 lakh to 48 lakh families as compared to partial insurance cover of Rs.50,000 provided to about 31 lakh families by the previous SAD-BJP government. The Government of India had asked us to provide this facility to only 14.96 lakh households under the scheme called Ayushman Bharat, he added.
Captain Amarinder said his government had decided to revamp Public Distribution System (PDS) to make it more open and transparent, by providing Smart Ration Cards, which shall ensure coverage of all eligible beneficiaries with full transparency and honesty. 
To ensure ease of living for the poorest of the poor in our urban areas, his government had also decided to enact a new Slum Dwellers Act and a new Punjab Transfer and Management of Municipal Properties Act, said the Chief Minister. "We shall also revisit the policy to regularize the colonies to make it simpler in our endeavour to dissuade such illegitimate property development in future," he added. 
In addition to the achievements under the Urban Environment Improvement Programme (UEIP), the Atal Mission for Rejuvenation and Urban Transformation (AMRUT) and Smart City Projects, the government had also approved a Rs. 650 crore project to clean the Budha Nullah. The Chief Minister also spoke in detail of about the investment made in infrastructure, particularly communication infrastructure.
Unlike the previous SAD-BJP government, his government, said the Chief Minister, was operating Sewa Kendras on a self-sustaining model, without any burden on the State.  His government was also working on a scheme to tackle the menace of stray cattle and requisite funds would be provided for it in the budget, he added.