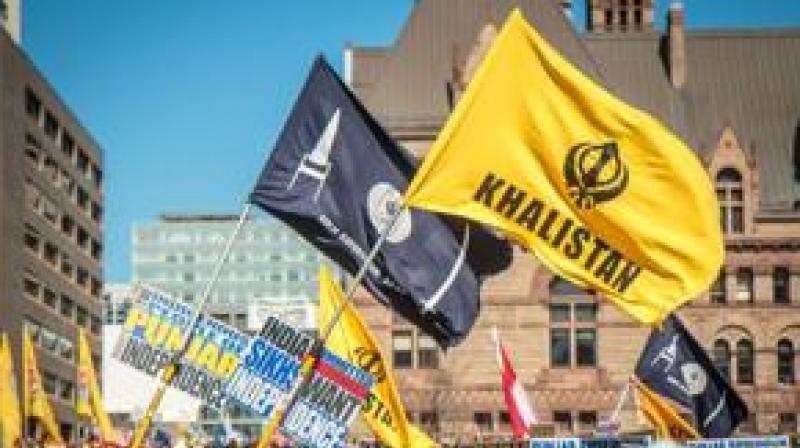 Khalsa tradition justifies use of force
A founding member of a new youth group has declared that in "Khalsa tradition, use of force is justified as a last resort...
A founding member of a new youth group has declared that in "Khalsa tradition, use of force is justified as a last resort" at the time when Canada-based Khalistani activists have argued their movement is peaceful and aimed at seeking self-determination. Moninder Singh said it comprises youth groups based in the United Kingdom, Canada, the United States and other youth organizations supporting them. When asked about the choice of such violent imagery, Singh said about SLF's logo features a hawk holding an AK-47 assault rifle that we chose that because we felt it was reflective of the Khalsa tradition and the tradition of suppressed people across the world. Singh also said that the Khalistan movement doesn't necessarily have to be associated with violence. Self-resistance, resistance against the state, self-defense; these modes sometimes require people to resist in many different ways including armed struggle.
Singh's remarks come against the backdrop of growing concern in New Delhi over a spike in the activities of Canada-based pro-Khalistan groups. The issue cast a shadow over Prime Minister Justin Trudeau's visit to India in February. A senior Indian government official, who was reached for comments on Singh's remarks, said: "Such blatant exhortation to violence aimed at India cannot be tolerated. It is incumbent upon the host government to take stringent action against such elements whose only agenda is of hate, violence, and mayhem."
Prime Minister Justin Trudeau's visit to India
In an email, Singh also noted: "Groups like SLF are to promote the idea of sovereignty and the use of the AK-47 is for a form of resistance as a last resort as mandated by our Guru Sahibans. Just like many countries have various weapons on their national flags, so too is ours a reminder that we must resist oppression and tyranny by any means necessary." Singh listed 10 national flags that feature weaponry, including that of Mozambique. He said his group's objective was also to counter what he called the Indian government's "fear-mongering" and the association of the Khalistan movement with extremism. Singh, in his mid-30s, is a prominent figure in the Khalistan movement in British Columbia, particularly in Surrey, a suburb of Vancouver. He is the vice-president and spokesperson of Dashmesh Darbar Gurdwara and one of the main organizers and spokespersons for the Nagar kirtan there.
The main stage at the event prominently featured a banner showing Jarnail Singh Bhindranwale with the words "Khalistan Zindabaad" emblazoned across it. Singh, born in the province and resident in Langley in the Lower Mainland, coordinated efforts in gurdwaras in western provinces to bar Indian officials from their premises. This year's Nagar kirtan was attended by leading Canadian politicians, including New Democratic Party leader Jagmeet Singh and British Columbia province's premier John Horgan.