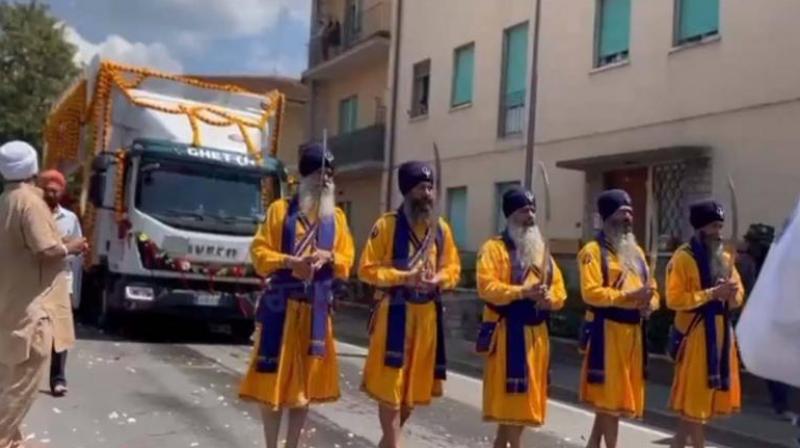 Nagar Kirtan
Devotees got the opportunity to listen to the panth famous poet Bhai Gurmukh Singh Johal
MILAN (Daljit Makkar): The Management committees of Sikhism in Italy organizes various events and Nagar Kirtans with the support of the devotees. With this, the promotion and dissemination of Sikhism in Italy is in full swing. As part of these laudable proceedings, a grand Nagar kirtan was organized at Terranova (Arezzo) in Italy dedicated to the Sajna Diwas of the Khalsa Panth. Large number of People from far places participated in the events.
The Nagar Kirtan organized by the management of Gurdwara Sangat Sabha Teranova started with the support of all devotees. On this occasion, the devotees got the opportunity to listen to the panth famous poet Bhai Gurmukh Singh Johal and Gatka was also performed by the Singhs. The Nagar Kirtan Organizing Committee honored the present leaders by presenting mementos. On this occasion, while congratulating the Sangat on Baisakhi, the mayor of Terranova, Sergio Canini, said that he is very happy to participate in the Nagar Kirtan and he further assures that whenever they plan such a program, they will get full support from the administration. .
The arrangements made by the local administration were commendable in themselves. The local traffic police performed their duty by blocking the roads in a very efficient manner. A variety of stalls were managed by the young servicemen. Leaders of the Sikh Gurdwara Parbandhak Committee (Italy) and the management committees of various Gurdwara Sahibs were present on the occasion. They congratulated the organizers of Gurdwara Sangat Sabha Terranova and the entire Sangat of Terranova and surrounding areas.