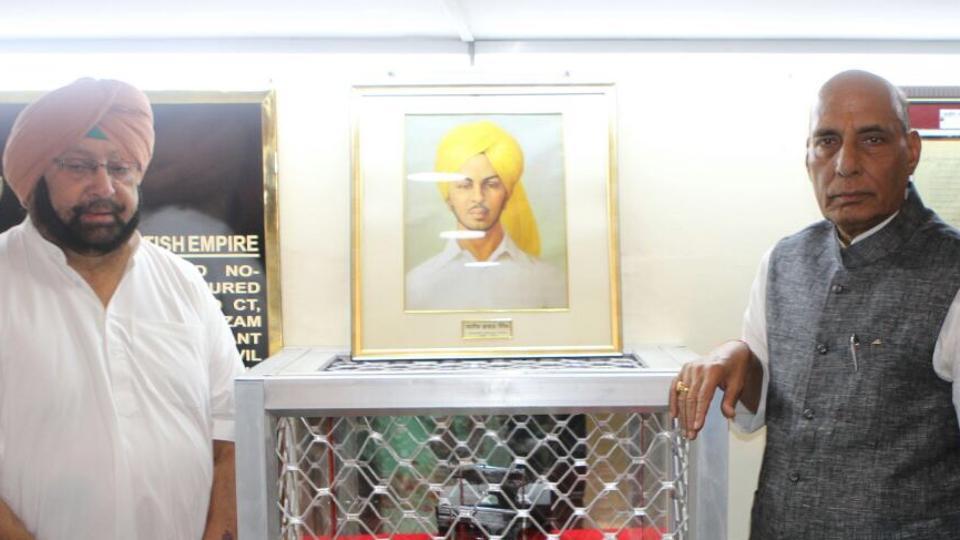 Ferozepur: Union Home Minister Rajnath Singh, accompanied by Chief Minister Capt Amarinder Singh, inaugurated the viewers' gallery at the Joint Check Post in Ferozepur district on Tuesday. Earlier, the Union minister visited historic Saragarhi Gurdwara and Barqi Square and also paid floral tributes at the Hussainiwala Martyrs' Memorial built in the memory of Bhagat Singh, Rajguru and Sukhdev. 
The foundation stone of the gallery, constructed at a cost of Rs16.39 crore, was laid by then Home Minister P Chidambaram on October 22, 2010. It was ready by the end of 2015, but its inauguration was delayed due to Rajnath's busy schedule. 
Owing to a large number of spectators coming to watch the daily 'Beating the Retreat' ceremony by the BSF on one side of the border and Pakistan Rangers on the other, the authorities were finding it difficult to house huge crowds due to the space constraint in the existing pavilion. Pakistani authorities had constructed a much bigger and attractive pavilion on their side, which created the need for renovation and beautification of the pavilion and sitting arena on the Indian side too. 
Earlier, after arriving at the Army Golf Club helipad, Rajnath and Capt Amarinder drove to the National Martyrs' Memorial, Hussainiwala, where they paid floral tributes at the "samadhi" of Shaheed Bhagat Singh, Rajguru and Sukhdev. While addressing a small gathering at Hussainiwala joint check post, Rajnath said Indian forces were capable enough to face any external threat. 
Applauding the services rendered by BSF women personnel, he said the government had been trying to fill the quota of 33% women in security forces.