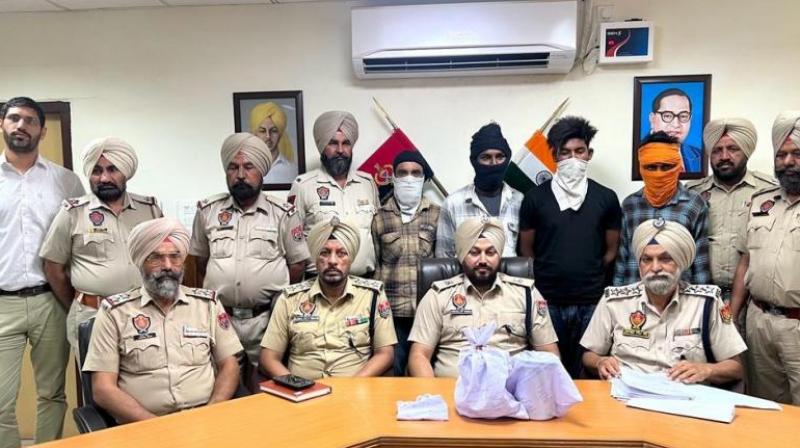 Tarn Taran Police
Further investigation in the matter is underway: Police
TARN TARAN: Tarn Taran police have arrested 4 accused with 1 kg 700 grams of heroin. About 5 live rounds including 1 pistol of 32 bore, 1 bullet and 1 deluxe motorcycle have also been recovered from their possession.
The police party of police station Khalra were checking the suspicious men and vehicles due to the blockade of the link road from Sur Singh to Chak Sikandar, when four youths on two motorcycles were seen coming from the Sursingh side of the village, who were being checked. When the police party signaled to stop, the rider of bullet motorcycle number PB14-B-4222 slowed down the motorcycle, then the youth sitting behind took out a pistol from his car and fired 3 shots with the intention of shooting at the police party and threw the bullet motorcycle and ran away. The police party encircled them and arrested them.
After interrogation, the arrested accused were identified as Sukhbir Singh alias Sukh son of Gyan Singh resident of Tarn Taran, Ranjit Singh alias Raja son of Murta Singh resident of Gobindpuri Colony Goindwal Sahib, Harpreet Singh alias Happy son of Mukhtar Singh resident of Naushera Dhala and Mangal Singh alias Manga son of Harpal Singh resident of Naushera Dhala. 
SI Kamaljit Singh conducted a search of the arrested persons, after which Heroin, Arms-Ammunitions, one Bullet motorcycle bearing number PB14-B-4222 and one D.Lex motorcycle bearing number PB46-AA-9011 were recovered from their possession. As per the police, a case has been registered against the accused and further investigation in the matter is underway. The arrested accused will be presented in the court and remanded for further interrogation.