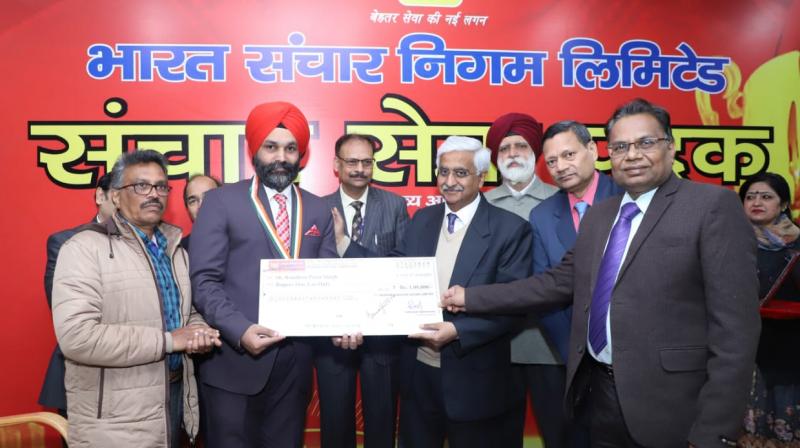 Chandigarh: On the eve of New Year - 2020, the PGMT BSNL Chandigarh - Sh. JS Sahota (ITS) disclosed to the media fraternity that to encourage the hard working employees, BSNL is conferring yearly awards to its outstanding officers who are working with great zeal and dedication. The staffs of Chandigarh SSA are richly contributing in the growth of BSNL.
He divulge that the Hon'ble Telecom Secretary, Govt of India - Sh. Anshu Parkash has recently presented National Award to "Bharat Sanchar Seva Padak - 2018" winner Sh. Bandhan Preet Singh, who is working as Junior Telecom Officer (EB) in O/o Principal General Manager Telecom, BSNL Chandigarh, at a function held on 27th December 2019 at Bharat Sanchar Bhawan, New Delhi in the presence of CMD BSNL, Board of Directors and CVO BSNL. His DGM - Sh. K Sathiaseelan also accompanied him during the ceremony.
The award comprises of ? 1 lakh in cash, 100 gms Silver Medal, Citation and 10 days tour in India with family.The officer has played an exceptional role in increasing the revenue of Chandigarh SSA and executed many meritorious activities for the last many years. Earlier also he won the Punjab Circle Award of "Vishisht Sanchar Seva Padak - 2010" in year 2010.The BSNL will keep on motivating its human asset to outdo the competition in future as well.