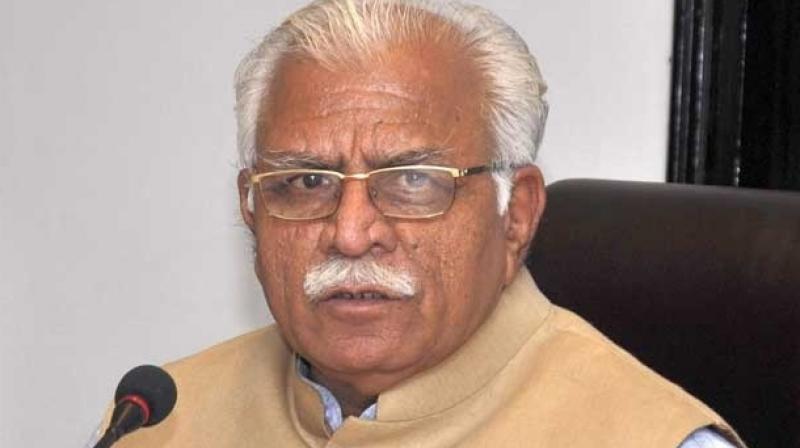 Panipat: As many as 401 'vyayamshalas', built over two acres each to promote sports activities, would be inaugurated across Haryana on May 5, Chief Minister Manohar Lal Khattar announced today.       
Addressing villagers after listening to Prime Minister Narendra Modi's monthly radio programme 'Mann Ki Baat' with the residents of Babail village here, Khattar said all these 'vyayamshalas' would be inaugurated next month.     
Haryana CM Manohar Lal Khattar
Referring to the prime minister mentioning about Haryana in his radio programme, Khattar said India had won 66 medals in the recently-concluded Commonwealth Games in Australia.  "It is a matter of pride for every Haryanvi that 22 of these medals were won by the sportspersons from Haryana. Fifteen-year-old Anish Bhanwala also won gold medal in the Commonwealth Games," he said.     
"It was due Haryana's contribution to the medals tally in the Commonwealth Games that India ranked third in terms of medals. If Haryana was a separate country it would have been at 6th rank in terms of medals," Khattar said, according to an official release.     
Manohar Lal Khattar
He said the Haryana government wants to promote sports in big way in the state so that India ranks number one in the medals tally in future international events.  Referring to the 'Fit India Programme', Khattar said the Haryana government has decided to open sports nurseries where children between 6 and 15 years of age would be trained according to their interests.     
He said the state government would engage youth of engineering colleges under Prime Minister's Swachh Bharat Summer Internship Project.  A scheme for pond development and water conservation would be got prepared through Haryana Pond Development Authority under this project, he added.