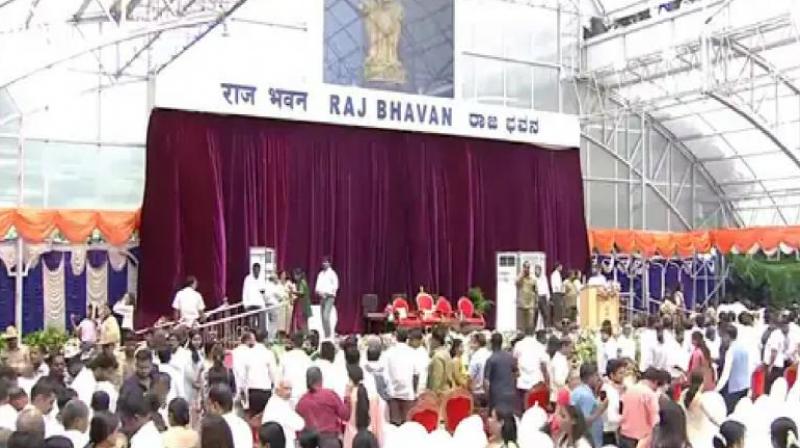 Karnataka Cabinet Expansion
Governor Thawar Chand Gehlot administered the oath of office to 24 ministers
Bangalore: The Congress government of Karnataka has expanded its cabinet by inducting 24 ministers on Saturday. Along with this, only a week after the party came to power in the state, all the 34 ministerial positions in the cabinet have been filled. Governor Thawar Chand Gehlot administered the oath of office and secrecy to these 24 ministers.
HK Patil, Krishna Byre Gonda, N. Cheluvaraswamy, K. Venkatesh, HC Mahadevappa, Ishwar Khandre, Kaithasandra N Rajanna, Dinesh Gundu Rao, Saranbasappa Darshanpur, Shivanand Patil, Timapur Ramappa Balappa, SS Mallikarjun, Tangadagi Shivraj Sangappa, Saranprakash Rudrappa, Patil Mankal Vaid, La. Hebalkar, Rahim Khan, D. Sudhakar, Santosh S. Lad, NS Boseraju, Suresh BS, Madhu Bangrappa, Dr. MC Sudhakar and B. Nagendra's name is included.
Apart from 23 MLAs, these ministers also include NS Bosaraju, who has been surprised by the Congress high command by including them in the cabinet. Bosaraju is neither a member of the Legislative Council nor a member of the Legislative Assembly.
A Congress leader said, "Bosraju, a former member of Vidhan Sabha and Vidhan Parishad, is the secretary of the All India Congress Committee. Bosaraju, who hails from Raichur, is a committed Congress worker. His name was approved by the Congress high command yesterday".