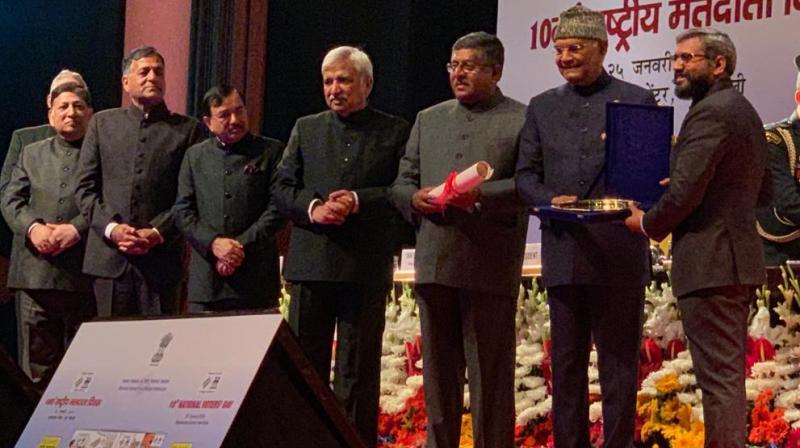 Chandigarh : The Election Commission of India has  awarded the Chief Electoral Office Punjab with the 'Best State for Accessible Elections' award for making elaborate arrangements to facilitate the Persons With Disabilities (Divyang) voters during General Elections 2019. 
The President of India Mr. Ram Nath Kovind conferred this coveted award upon the Chief Electoral Officer Punjab Dr. S Karuna Raju  today during National Voter's Day function held at Zoravar Auditorium in Manekshaw Centre, New Delhi. On having received the award, Dr. S. Karuna Raju said that this honour was the result of Administrative cooperation of Chief Secratary of Punjab and active support of Principal Secretary Finance and  commendable arrangements made during the elections in collaboration with the departments of Rural Development and Panchayats, Health & family Welfare and Social Security.
He said that exemplary arrangements were put in place as per the instructions of the Election Commission of India for the facilitation of Divyang voters in elections. Dr. Raju further said that the credit of award goes to the hard work and stupendous efforts of Additional CEO Mrs Kavita Singh, Additional CEO Mr. Sibin C, Additional CEO Gurpal Singh Chahal, Additional CEO Bhupinder Singh, all Deputy Commissioners and SSPs to translate the vision of ECI into reality.