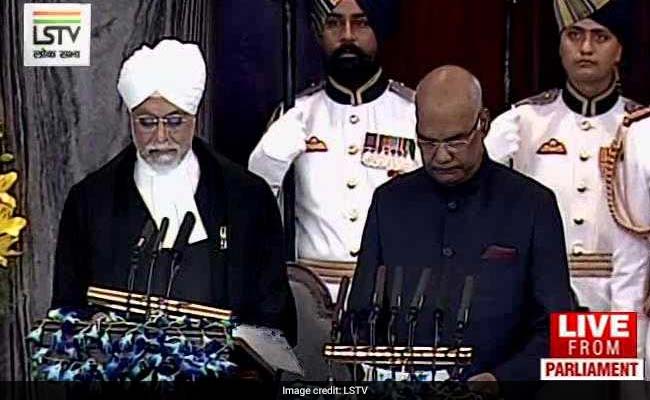 New Delhi: Ram Nath Kovind today took oath as the 14th President of the Republic of India.  Kovind said, " I am accepting this position with all humility and I am grateful for this responsibility." 

In his address following the swearing-in, Kovind said that he is proud to be able to follow in the footsteps of eminent Presidents like Dr. Rajendra Prasad, Dr. S Radhakrishnan and Dr. APJ Abdul Kalam. 
Kovind said that he was looking forward to build an India that provided economic growth as well as moral value, while saluting the 125 crore citizens of the country. Kovind saluted the police, the armed forces, scientists, the youth and said that every citizen was a true nation builder in his own way. 

"We are all one, and we will remain one," Kovind said.  The president also said that India should take the initiative and be a forerunner in leading the world toward peace. 
Kovind also said that by the time India celebrates its 75th anniversary of independence, we should work to open the door of opportunity for the most deprived classes in the country.  The new President said that would be the fulfilment of the India that was envisioned by Mahatma Gandhi and Deendayal Upadhyay.