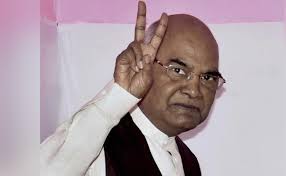 New Delhi: No one had imagined that once an IAS aspirant Ram Nath Kovind will become the first citizen of India. Kovind had a dream to become an IAS officer but despite three attempts in Civil Services examination, he didn't make it to IAS.
But, that was not an end for Kovind as he dropped the idea and started practice at Delhi High Court. He had high hopes to get induct himself in the country's prestigious Civil Services but destiny had reserved something bigger than the Civil Services for Kovind.
The political journey of the new President started from 1991 when he joined BJP. In span of 17 years in politics, he rose to the greater heights. A journey of an IAS aspirant finally ended up at Rashtrapati Bhawan on July 20. He is the second  Dalit President of this country after K R Narayanan.