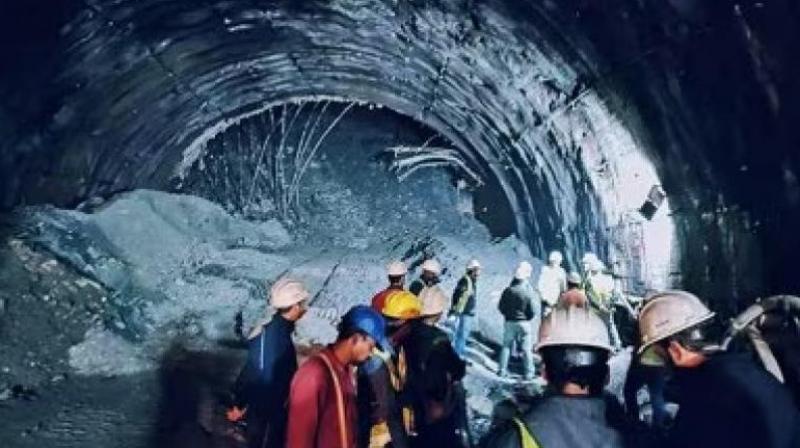 Uttarkashi Tunnel Collapse Latest Updates
Desperate Attempts Continue Amidst Worsening Conditions in Collapsed Silkyara Tunnel
Uttarkashi Tunnel Collapse Latest Updates: The Harrowing plight of workers trapped in the partially collapsed Silkyara tunnel in Uttarkashi district of Uttarakhand persists, with today marking the ninth day of their ordeal. The rescue operations have faced significant challenges, and the fate of those trapped remains uncertain.
At least 40 workers have lost their lives in the tragic incident that unfolded in the 4531-metre Silkyara tunnel, a crucial component of the Chardham project under the Ministry of Road Transport and Highways. The tunnel connects the Gangotri and Yamunotri corridors beneath the Radi Pass area.
Efforts to rescue the trapped workers have been hampered by the treacherous conditions within the tunnel. A US-made auger machine was deployed to drill and push pipes, but the rescue process had to be halted to prevent further risks. A statement by NHIDCL revealed that during the positioning of the fifth pipe, a loud cracking sound was heard, leading to the suspension of the rescue operation.
Despite challenges, rescuers managed to push 39 meters into the wreckage on Sunday through a six-inch-wide tube. The successful placement of the tube is crucial as it would provide an alternative route for delivering essential supplies such as food and water to the stranded workers.
Roads, Transport, and Highways Secretary Anurag Jain announced a five-option action plan for the rescue efforts, emphasizing the government's commitment to saving the trapped workers. However, as of Sunday, drilling had not commenced, as rescue teams worked on various plans to safely extract the workers from the unstable tunnel.
An expert involved in the rescue operation expressed concerns about the possibility of additional collapses near the tunnel, prompting the suspension of pipe pushing activities on Friday. Multiple agencies, including ONGC, RVNL, Sutlej Jal Vikas Nigam Limited, BRO, State PWD, and NHIDCL, are collaborating to expedite the rescue mission.
In a bid to sustain the trapped workers, along with provisions of food and water, multivitamins and anti-depressants are being sent. Uttarakhand Disaster Management Secretary Ranjit Sinha revealed plans to deploy robots inside the tunnel to assess available space, guiding decisions on potential life support measures.
(For More News Apart from Uttarkashi Tunnel Collapse Latest Updates, Stay Tuned to Rozana Spokesman)