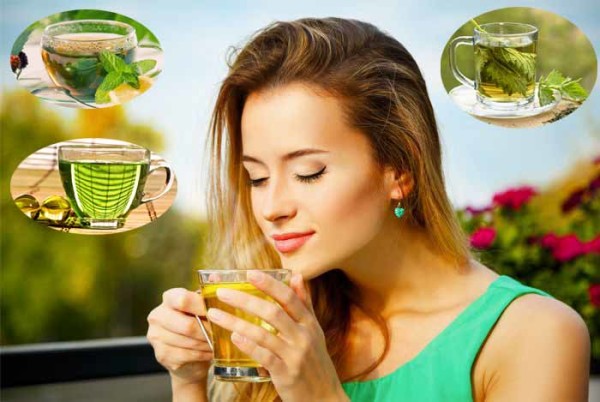 Green tea is more than just green liquid. Many of the bioactive compounds in the tea leaves to make it into the final drink, which contains large amounts of important nutrients. Green tea also has small amounts of minerals that are important for health. Green tea does more than just keep you awake, it can also make you smarter. 
The key active ingredient is caffeine, which is a known stimulant. Caffeine has been intensively studied before and consistently leads to improvements in various aspects of brain function, including improved mood, vigilance, reaction time and memory. However... green tea contains more than just caffeine. It also has the amino acid L-theanine, which is able to cross the blood-brain barrier. 
Another study showed that fat oxidation was increased by 17%, indicating that green tea may selectively increase the burning of fat. Caffeine itself has also been shown to improve physical performance by mobilizing fatty acids from the fat tissues and making them available for use as energy. 
Cancer is caused by uncontrolled growth of cells. It is one of the world's leading causes of death. It is well known that oxidative damage contributes to the development of cancer and that antioxidants can have a protective effect. Green tea is an excellent source of powerful antioxidants, so it makes perfect sense that it could reduce your risk of breast, prostate, and colorectal cancer. 
Not only can green tea improve brain function in the short term, it may also protect your brain in old age. Alzheimer's disease is the most common neurodegenerative disease in humans and a leading cause of dementia. Type II diabetes is a disease that has reached epidemic proportions in the past few decades and now afflicts about 300 million people worldwide. 
This disease involves having elevated blood sugar levels in the context of insulin resistance or an inability to produce insulin. According to a review of 7 studies with a total of 286,701 individuals, green tea drinkers had an 18% lower risk of becoming diabetic.
In order to feel better, lose weight and lower your risk of chronic diseases, then you might want to consider making green tea a regular part of your life.