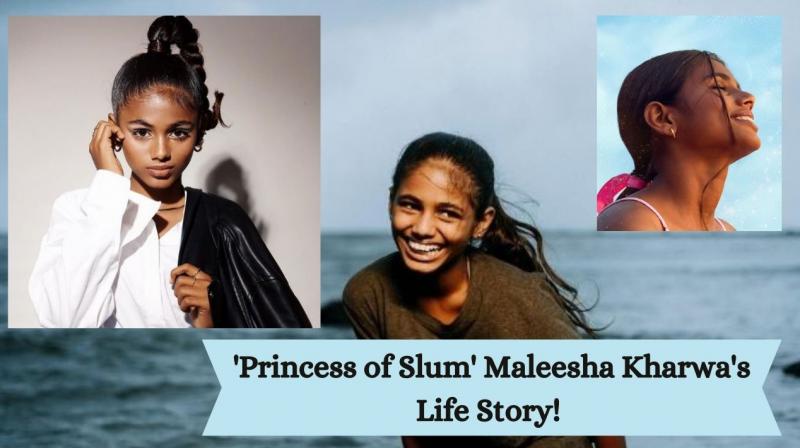 Maleesha Kharwa
Maleesha Kharwa have recently received two offers for Hollywood films
The Quote- 'The Sky's the Limit' is extremely true as it states that there are no limits. Anything is possible in this world and one can achieve anything if they really want to. The real example is the 14-year-old girl, Maleesha Kharwa from Mumbai's infamous Dharavi Slum. She has become the face of a luxury skincare brand 'Forest Essentials' new campaign 'The Yuvati Collection'. Her dream of becoming a model have come true. 
Recently, Maleesha who calls herself 'Princess of Slum' was featured in Arsala Qureishi and Jas Sagu's short film titled "Live Your Fairytale". The Short film captured the experience of five slum children who for the first time ever dine in a restaurant.
Maleesha Kharwa's Story.....
Maleesha Kharwa was first discovered by Hollywood actor Robert Hoffman in 2020 while a music video was being filmed in Mumbai. Robert Hoffman was extremely impressed by Maleesha's personality. After this, he created an Instagram account for Maleesha and also a started a GoFundMe campaign to support her goals. 
Significantly, Maleesha Kharwa have recently received two offers for Hollywood films. Her Instagram following has also increased to over 2.3 lakh. Forest Essentials introduced her to the world as the company aims to empower underprivileged children through education and helping them to transform their dreams into realities.
The Forest Essentials shared a video clip of Maleesha's reaction while entering their store and experiencing her campaign photos displayed all around. They wrote, "Her face lit up with pure delight, To see her dreams in front of her in sight. Maleesha's story is a beautiful reminder that dreams really do come true. #BecauseYourDreamsMatter."
In an interview, Maleesha Kharwa said that Priyanka Chopra is her inspiration. She further revealed that Forest Essentials is her biggest job till date. She added, "I want to be a model, but education will always come first for me."