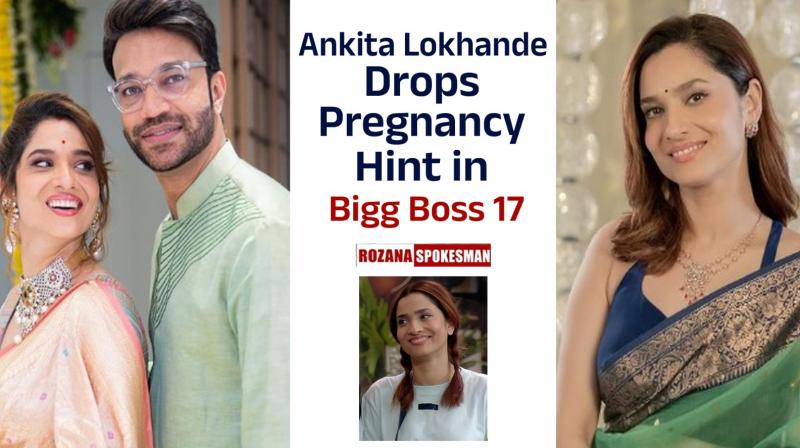 Ankita Lokhande Pregnancy News
Ankita Lokhande's Playful Banter Fuels Speculation About Parenthood in the Bigg Boss House
Ankita Lokhande Pregnancy News: In a recent episode of Bigg Boss 17, popular TV artist Ankita Lokhande, who entered the house with her husband Vicky Jain, left fans excited with a subtle hint about a possible pregnancy. The interaction unfolded during a candid moment between Ankita, Rinku, and Jigna, bringing a wave of joy among Ankita's admirers.
Pregnancy Hint Unveiled:
Ankita, during a conversation about her health, shared with Rinku and Jigna that she's been experiencing some issues. Playfully, she mentioned feeling nauseous in the evening and having a craving for sour foods. In response, Rinku and Jigna teasingly suggested that these symptoms could be indicative of good news – a pregnancy. Ankita, blushing, downplayed the matter, humorously remarking about dealing with such matters in the Bigg Boss house.
The banter continued as Rinku humorously stated, "there is something in the first deeds too," alluding to the potential pregnancy. Ankita, in a lighthearted manner, agreed, stating, "I also feel the same." The playful exchange has fueled speculation among fans, considering Ankita's prior disclosure that she plans to start a family post-Bigg Boss. Ankita and Vicky Jain tied the knot in 2021.
Last month, rumors surfaced about Ankita Lokhande expecting, but the actress promptly clarified that it was mere speculation. The recent conversation in the Bigg Boss house adds a new layer to the ongoing curiosity surrounding Ankita's family planning.
Ankita and Vicky Jain, a beloved couple within the Bigg Boss house, have been captivating audiences with their dynamics. However, recent episodes suggest a strain in their relationship, leaving viewers intrigued about the twists and turns their journey may take within the Bigg Boss realm. As the buzz around Ankita's possible pregnancy circulates, fans eagerly await further developments and twists in the Ankita-Vicky saga on Bigg Boss 17. 
(For More News Apart from Ankita Lokhande Pregnancy News, Stay Tuned to Rozana Spokesman)