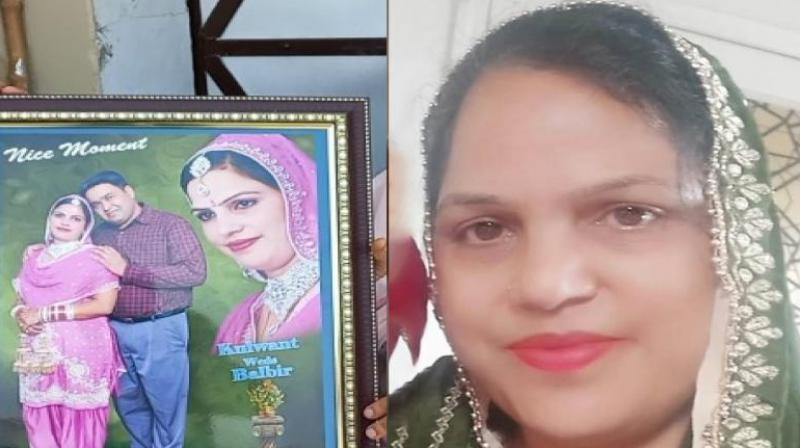 Garhshankar
Grieving family is seeking the repatriation of her body to India or access to visit Canada
GARHSHANKAR: In a distressing incident that has left the community in shock, a Garhshankar native, Kulwant Kaur (46), residing in Canada, met a tragic end as she was allegedly murdered by her husband, Balveer Singh, in New Westminster (Vancouver).
Kulwant Kaur, daughter of Gurbaksh Kaur and Onkar Singh, had tied the knot with Balveer Singh, son of Pritam Singh from Dhaliwal village in Kapurthala, a decade ago. The couple had moved to Canada four years ago along with their nine-year-old son.
The devastating news reached the deceased's family in Garhshankar when they received a heart-wrenching call from the New Westminster police informing them of Kulwant Kaur's untimely demise. The family, devastated by the news, expressed disbelief and sorrow, not expecting such a tragic turn in their daughter's life.
The Grieving family is currently in close communication with the Canadian authorities, seeking updates on the investigation into the alleged murder. While the initial investigation suggests a quarrel between the couple as a possible motive, the true reason behind this appalling act will only be known once the investigation concludes.
In their grief-stricken state, the family is urging for Kulwant Kaur's body to be repatriated to India, or alternatively, for expedited issuance of a visa to Canada, allowing them to bid their final farewell and bring her back home for a dignified last rites ceremony. The community stands in solidarity with the grieving family during this distressing time, hoping for a swift and just resolution to the investigation.