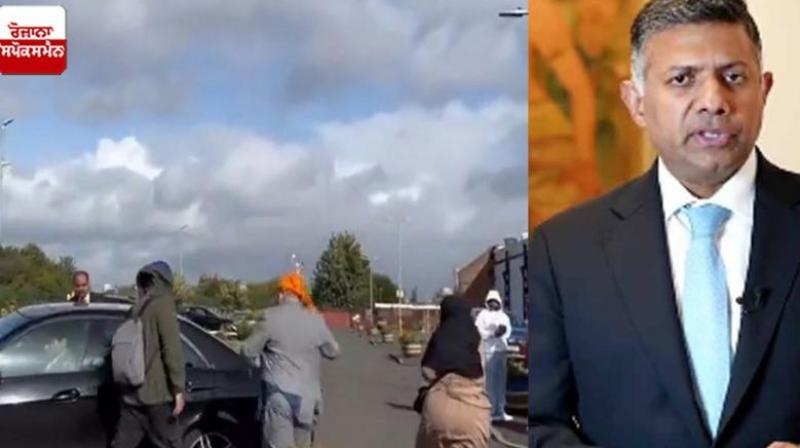 Photo
Incident Triggers concerns over Sikhs' treatment and strained India-UK relations
LONDON: In a recent incident, Indian High Commissioner to Britain, Vikram Doraiswami, was denied entry into a Gurdwara Sahib in Glasgow, Scotland. A video capturing the incident shows an individual obstructing Doraiswami from entering the Glasgow Gurdwara located on Albert Drive.
The Incident has occurred in the midst of a diplomatic dispute between India and Canada concerning the murder of Gangster Hardeep Singh Nijjar. The person in the video voiced concerns about the alleged mistreatment of Sikhs in Canada and other locations, urging Sikhs to oppose Indian ambassadors' visits, reminiscent of the Glasgow incident.
Following this encounter, Doraiswami chose to withdraw and departed from the location. The individual in the video continued to instruct Doraiswami not to return to the Gurdwara. Reports suggest that India has formally raised this matter with the British Foreign Ministry, underscoring the gravity of the situation.
The Indian High Commissioner had intended to meet with the Gurdwara Committee of the Glasgow Gurdwara on Albert Drive during his visit. The incident, coming in the wake of heightened tension after Hardeep Singh Nijjar's murder, has drawn attention to the alleged targeting of British Sikhs, paralleling previous cases involving Avtar Singh Khanda and Jagtar Singh Johal.
Notably, The Indian High Commission and the Ministry of External Affairs in London are anticipated to provide a formal response, addressing the incident and its implications, as the international community closely watches the evolving situation.