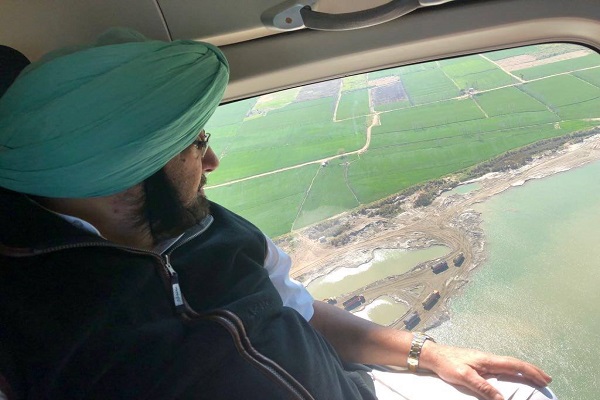 Chandigarh: A massive crackdown was launched on the mining mafia today in the Nawanshahr and Jalandhar districts after Punjab Chief Minister Amarinder Singh noticed illegal activity on the Sutlej river bed as he flew over the Sutlej river bed in a chopper on way to Kartarpur.  

An angry Punjab chief minister promptly ordered a probe and seizure of the equipment that appeared to be enegaged in illegal mining, an official spokesperson said. The Nawanshahr authorities seized some heavy earth moving machines along with two Forklifts and 30 Tippers (Trucks) from village Malikpur following Singh's directive.

The chief minister was flying to Kartarpur near Jalandhar to dedicate to the nation the second phase of the Jang-e-Azadi Memorial monument when he spotted the blatant illegal activity, largely in the Rahon area of Nawanshahr, and also in Phillaur (Jalandhar), he said.  

Perturbed at the shocking sight, Singh asked the helicopter pilot to fly lower and took a sortie around the river bank. Having confirmed his suspicion, Singh wasted no time in ordering an urgent and thorough probe into the matter, the spokesperson said.  

The chief minister directed the deputy commissioners and SSPs of the concerned districts to crack down on the activity and seize the equipment, he added.  

Clearly upset at having witnessed the blatant violation of norms, Singh instructed the state DGP Suresh Arora to expedite the formulation of a comprehensive strategy, in coordination with the mining department and the district administrations, to curb the illegal activity.  

He made it clear that non-compliance or further delay in this regard would not be tolerated, the spokesperson said. PTI