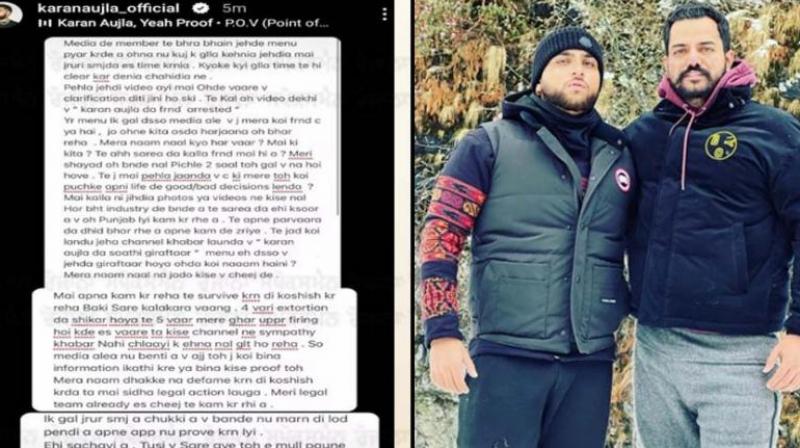 Karan Aujla's Statement
I consider it necessary to say a few things to the media members: Karan Aujla
MOHALI: Punjabi singer Karan Aujla has clarified his link with Sharpy Ghuman by sharing a post on Instagram after the arrest of Sharpy Ghuman. Along with this, Karan Aujla wrote that legal action will be taken against those who spread false news.
Karan Aujla said (In Punjabi) (Roughly Translated), "I consider it necessary to say a few things to the media members and brothers and sisters who love me, because many things should be cleared on time. I gave as much clarification as I could about the video that came earlier and yesterday I saw the video that 'Karan Aujla da Dost Arrested'. Friend, tell me one thing that if I had or have a friend, why is my name always associated with him.
The Singer further said (In Punjabi) (Roughly Translated), "What have I done? And am I the only friend of all? I might not have even spoken to that person for the last 2 years, but even if we had known before, would someone have asked me before taking decisions in his life? I am not the only one whose pictures and videos are with someone, there are many other industry people and all of them have the same fault that they are working for Punjab and their families . When a channel brings the news that 'Karan Aujla's aide has been arrested', tell me that why there is no name of the one who was arrested? Don't associate my name with anything."
Karan Aujla added, "I am doing my work and trying to pass the time like all other actors. I am a victim of extortion 4 times and there was firing at my house 5 times. No channel ever aired a sympathetic news about these incidents. So media persons are requested that from today onwards, if anyone tries to defame my name by force without collecting information or without any evidence, I will take direct legal action. My legal team is ready and working on this thing. One thing has definitely been understood that a man needs to die to prove himself, this is the truth. You also gives value to someone who has gone, you should be ashamed."