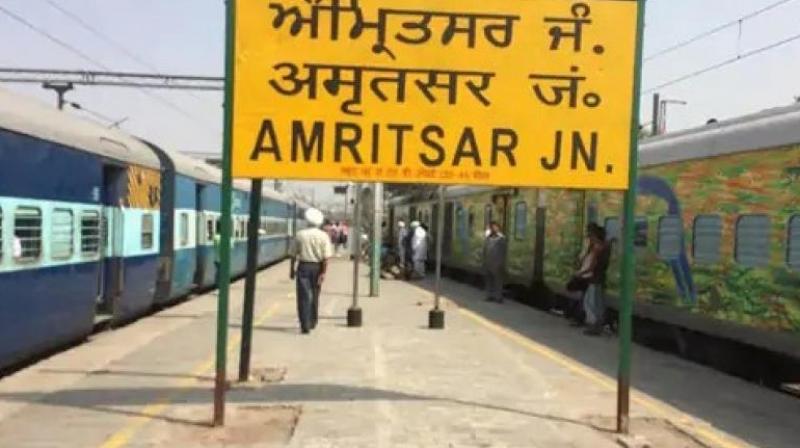 Amritsar Junction
Railway has released its time table on its website
AMRITSAR: Indian Railways has announced to run special summer trains between two stations from Amritsar to Katihar and Gandhidham to address overbooking during summer vacations. Both these trains will be weekly and will complete one journey every week. Railway has also released its time table on its website and the booking has commenced.
It has been announced to run train number 09461/09462 to Gandhidham. Accordingly, train number 09462 will leave from Amritsar on May 27 at 2.30 pm, and will reach Gandhidham the next day at 6:30 pm. After May 27 (Saturday), this train will leave from Amritsar on 3,10, 17, 24 and 1 July.
Train No. 09461 will leave Gandhidham, Gujarat at 6:30 am on Friday, 26 May and reach Amritsar at 12:35 pm the next day. After May 26 (Friday), this train will leave Gandhidham for Amritsar on June 2, 9, 16, 23 and 30.
Apart from First AC, Second AC, Three Tier AC, Sleeper, this train will also have General Class. These trains stop at Samkhayali, Dhrangadhra, Viramgam, Mehsana, Bhildi, Ranivada, Marwar Bhinmal, Modran, Jalore, Mokalsar, Samdri, Luni, Jodhpur, Gotan, Merta Road, Degana, Chhoti Khatu, Didwana, Ladnu, Sujangarh, Rau, Churu, Sadulpur, Hisar, Ludhiana, Jalandhar City and Beas stations.
The second summer special train from Amritsar is leaving for Katihar in Bihar. Train number 05733/05734 is running between Amritsar - Katihar. Train number 05733 from Amritsar will leave at 8:45 am on next 6 Mondays, which will reach Katihar at 6:20 pm the next day, Tuesday. This train will leave after 29th May on 5th, 12th, 19th, 26th June and 3rd July.
Similarly, train number 05734 will leave Katihar at 7:50 am on next 6 Saturdays to reach Amritsar at 7:30 pm on Sunday. After May 27, this train will leave from Katihar on June 3, 10, 17, 24 and July 1.
This train will stop at 19 stations. There will be a total of 17 coaches in this train. In which AC and sleeper class coaches are also included. This train will reach Katihar from Amritsar via Jalandhar, Ludhiana, Ambala, Delhi via Aligarh, Kanpur Central, Lucknow, Gonda, Balrampur, Siddharth Nagar, Gorakhpur, Narkatiyaganj, Samastipur, Hasanpur, Khagaria and Nagochiya.