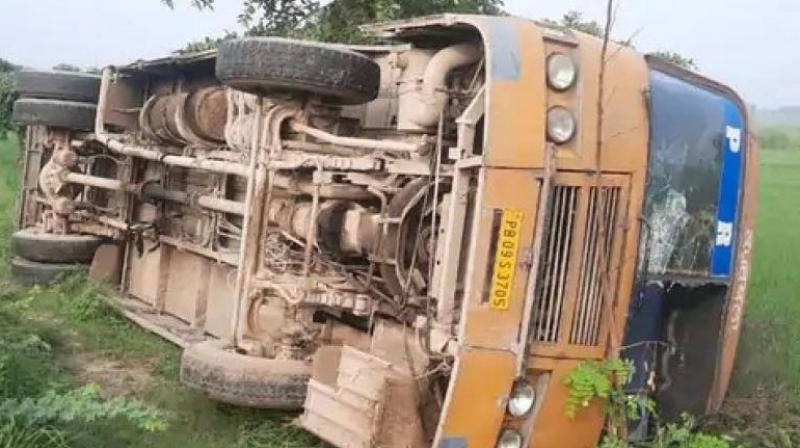 Bus Overturns in Kapurthala
Independence Day holiday ultimately minimized the potential severity of the accident
KAPURTHALA: In a fortunate turn of events, a Punjab Road Transport Corporation (PRTC) bus, en route from the Kapurthala depot to Tanda, narrowly escaped a potential disaster as it overturned near the village of Tajpur-Mustafabad on the Subhanpur road earlier this Tuesday morning. The incident, which occurred while the driver attempted to avoid a collision with another vehicle, led to an immediate response from passersby, resulting in the safe evacuation of passengers and crew.
The driver of the ill-fated bus, identified as Satwinderpal Singh from Tarn Taran, provided insight into the incident. At approximately 6:50 am, the bus was approaching the Tajpur-Mustafabad junction on the Nadala-Subhanpur road, albeit slightly behind schedule. Unexpectedly, a vehicle from the opposite direction collided with the bus's side, causing it to lose control and overturn onto a dirt road adjacent to the paved route.
Despite the alarming nature of the accident, the aftermath was met with relief due to the timely rescue efforts of the gathered onlookers. Passersby acted swiftly to extricate the driver and conductor from the overturned bus, ensuring their safety. Fortunately, the incident resulted in only minor injuries to the passengers on board, including a migrant traveler.
Satwinderpal Singh expressed gratitude for the reduced passenger count that day, attributed to the Independence Day holiday, which ultimately minimized the potential severity of the accident. The bus reportedly carried a mere 6 to 7 passengers at the time of the incident, sparing the region from a more catastrophic outcome.
Local authorities and emergency services quickly responded to the scene, ensuring that those with minor injuries received prompt medical attention. Additionally, an alternate bus was arranged to transport the remaining passengers to their intended destinations, minimizing disruption to their schedules.