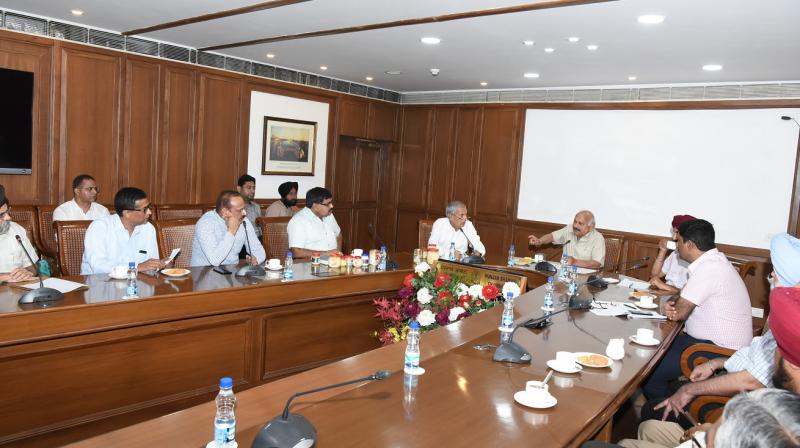 CHANDIGARH : The Health and Family Welfare Minister today held a meeting with the Milk Plant Association here at Punjab Bhawan. In the meeting, the members of the Association applauded the initiative taken by state government against the production and sale of adulterated milk and milk products. They also told the Health Minister about the difficulties faced by the entrepreneurs in the market due to availability of sub- standard and adulterated food.
Presiding over the meeting, Mr. Brahma Mahindra, assured the association members that small traders who make milk and milk products will not be bothered if anyone would be found producing adulterated milk or food products would not be spared.
He said that to support the Punjab government's campaign against adulteration food, entrepreneurs and traders has to be strictly followed the norms set by FSASI so that the people of the state can be provided nutritious and healthy food items. The Health Minister was also told by the Association that due to the sale of sub standard milk and desi ghee, there is a large amount of revenue loss to the genuine producers.
The Food Safety Commissioner Mr. K.S. Pannu said that about 40 percent of samples of milk and milk products have failed in the last month that had been taken during the raids across the state. He said that for this, it becomes imperative that to stop the financial losses, the traders should follow the prescribed criteria issued by FSSAI and ensure the quality and nutritious standard of food items.
In this meeting, the members of the Association of Cheese Manufacturers also informed the Health Minister about the difficulties faced by them due to sale of sub standard and adulterated cheese. The Health Minister assured that the government would not allow the adulterants to play with the health of the people at any cost and the action was being taken against the adulterators under the Mission Tandrust Punjab. He directed the senior officers to ensure that no innocent person or business would be booked during the raids conducted by the health teams. He also appealed the entrepreneurs and traders to come forward to join hand with the state government to stop the sale and production of adulterated food items in the State.