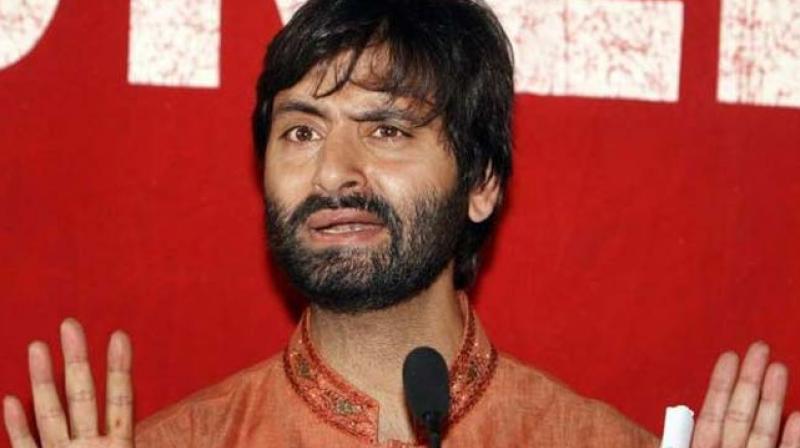 Mohammad Yasin Malik
 Jammu and Kashmir Liberation Front (JKLF) chairman Mohammad Yasin Malik was detained today on his way to the Jamia Masjid here to lead a protest march against alleged use of force on student protestors, police said. Malik was detained at Khanyar when he was going to the Jamia Masjid at Nowhatta for the protest march, a police official said.
He said Malik has been lodged at Kothi Bagh police station. Meanwhile, a JKLF spokesman said Malik was to lead the protest march against the use of force on students, an illegal continuous arrest of leaders by NIA and Kathua rape-and-murder incident. He said the JKLF chairman was assaulted by the police before being taken away.
Quoting witnesses, the JKLF spokesman claimed police stopped Malik's vehicle near Gousia hospital Khanyar and straightaway a police officer started hurling abuses at him. The JKLF chairman objected to the police officer's misbehavior and asked him to show some restraint, the spokesman claimed. Policemen assaulted JKLF chairman, injured him and virtually dragged him to police station Khanyar, where from he, along with another JKLF leader Bashir Kashmiri, was shifted to police station Kothibagh, the spokesman said. Moderate Hurriyat Conference Mirwaiz Umar Farooq condemned the alleged police action. Strongly condemn police assault, manhandling and arrest of JKLF chief Yasin Malik by police when he was on way to Jama Masjid to take part in a peaceful protest against unabated killings of youth, use of force on student and continuous illegal arrests of leaders by NIA, the Mirwaiz said on Twitter.