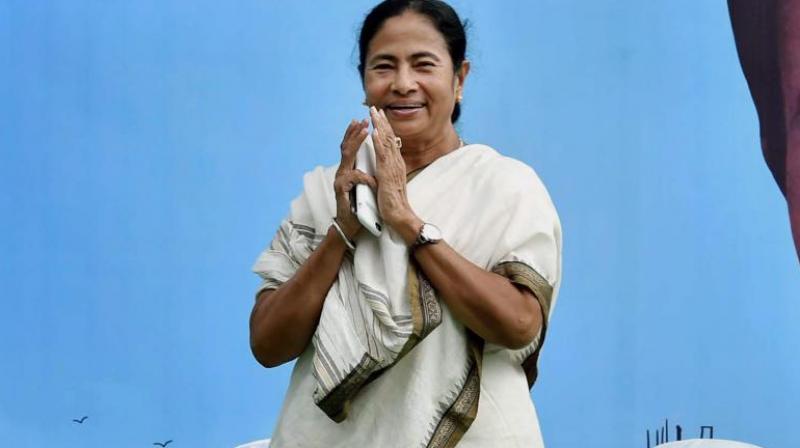 Chief Minister Mamata Banerjee
Come Durga Puja, Chief Minister Mamata Banerjee's creative side will be on display at various pandals in the state. A poem by Banerjee, which talks about contributions of the Santhal community to the country, will find a place on the wooden panels of a pandal at Bhawanipore, while another song written by the chief minister will be played at a New Alipore puja. The Santhal poem - 'Joi Jitkaur Deban Mena' (Say, we will win) will be translated in Bengali and etched on the wooden panels of the main pandal of 'Swadhin Sangha' at Bhawanipore, in the southern part of the city, a puja committee member said.
Apart from the Santhal poem, life-size statues depicting the activities of tribal men and women will adorn the pathway to the pandal, Ashim Kumar Bose, the general secretary of Bhawanipore's Swadhin Sangha Puja Committee, said on Monday. "The pandal will showcase the contributions of Santhal population to our country, their role in the freedom struggle and generate awareness about the lifestyle of the Santhali population living in Purulia, Bankura, West Midnapore areas among the people," Bose said. The Swadhin Sangha Puja Committee had last year themed its puja on Banerjee's poem 'Sobuj' (The Green), urging people to save the environment.
The chief minister has also composed the theme song for a prominent Durga puja at 'Suruchi Sangha' in south Kolkata. Banerjee had said that the lyrics aimed to bring back the spirit of 'Agomoni' (traditional Bengali songs invoking the goddess) songs in theme music once again. "I was requested by Arup Biswas (Banerjee's cabinet minister) to compose the theme song for his Durga Puja (Suruchi Sangha) and I decided to retain the spirit of Agomoni songs like 'Ja Devi Sarbabhuteshu' in my lyrics. Hope it will be liked by everyone," she had said at a programme earlier this month. Popular singer and West Bengal Minister of State for Culture Indranil Sen has lent his voice to the lyrics. The chief minister had composed the theme song for the puja at 'Suruchi Sangha' last year also.