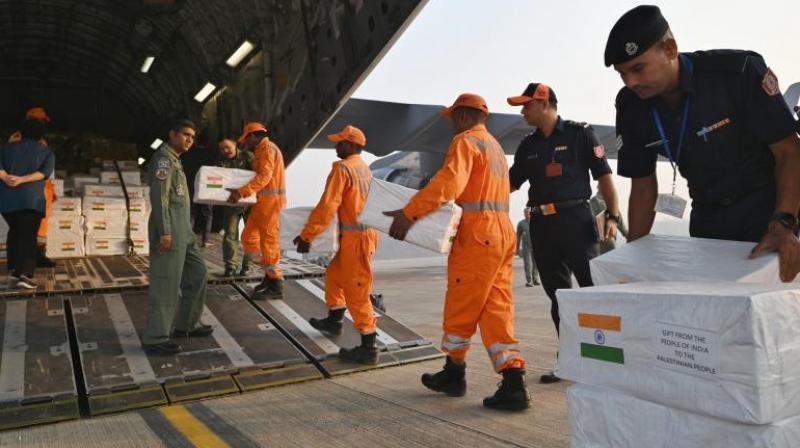 Humanitarian Aid
Relief materials, medical supplies, and essentials sent for Palestinians amidst ongoing conflict
NEW-DELHI: India has taken a compassionate step by providing humanitarian assistance to the Palestinian people affected by the ongoing conflict between Hamas and Israel in Gaza. Approximately 6.5 tonnes of medical aid and 32 tonnes of disaster relief materials have been dispatched by India to reach the region through Egypt. An Indian Air Force (IAF) C-17 flight, laden with relief supplies, departed for Egypt's Al-Arish airport.
The Aid includes critical, life-saving medicines, surgical supplies, tents, sleeping bags, tarpaulins, sanitation facilities, water purification tablets, and other essential items. Arindam Bagchi, the spokesperson for the Ministry of External Affairs, announced, "An IAF C-17 flight carrying about 6.5 tons of medical aid and 32 tons of disaster relief materials for the people of Palestine departed for Al-Arish Airport in Egypt." These supplies will subsequently be transported to Palestine via the Rafah border crossing, which connects to Gaza.
India's assistance to Palestine comes just three days after Prime Minister Narendra Modi held discussions with Palestinian Authority President Mahmoud Abbas. During their conversation, PM Modi reaffirmed India's commitment to providing humanitarian aid to the Palestinian people. He also expressed his condolences for the loss of civilians in the Gaza Strip resulting from the bombing of a hospital.
In addition to expressing solidarity with the Palestinian cause, PM Modi and President Abbas shared deep concerns over terrorism, violence, and the deteriorating security situation in the region. PM Modi reiterated India's long-standing principled stance on the Israel-Palestine issue, emphasizing the importance of lasting peace and stability in the region.