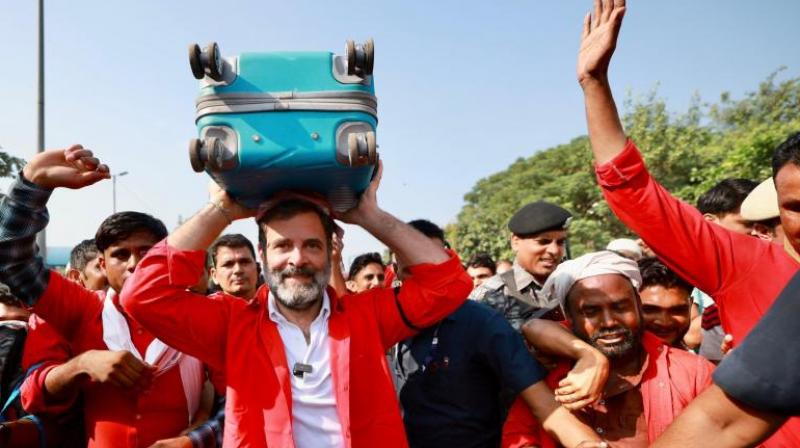 Rahul Gandhi at Anand Vihar railway station
The Congress Leader Participates in Humble Tasks, Connects with Workers & Commuters
NEW-DELHI: Rahul Gandhi, a prominent leader of the Indian National Congress, took a break from his routine to connect with everyday lives by meeting coolies at Anand Vihar railway station in the national capital, Delhi. During this visit, he actively participated in their work by carrying the luggage of passengers. The moment was captured on video and shared by the Congress party on social media.
The Congress party shared the captured moment on Twitter, describing Rahul Gandhi's engagement with the coolies as an example of his approach as a 'people's leader.' The video showcased a genuine interaction between Rahul Gandhi and the workers, highlighting their aspirations and concerns. This outreach is part of Rahul Gandhi's ongoing effort to connect with people across various segments of society, reflecting his commitment to understanding their challenges and aspirations.
In recent times, Rahul Gandhi has been engaging with people from diverse backgrounds. Notably, he was seen driving a tractor in Haryana and actively participating in planting paddy in the fields alongside farmers. Additionally, he spent time with a motor mechanic, discussing various subjects. During the interaction, Rahul Gandhi also mentioned his own motorcycle, a KTM 390, revealing that due to security concerns, he is unable to ride it as freely as he would like. Notably, This Initiative showcases Rahul Gandhi's approach of being in touch with the grassroots and understanding the realities faced by various sections of society.