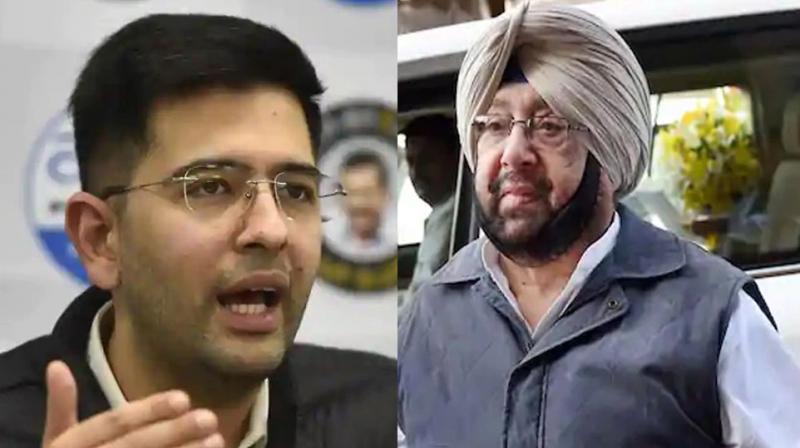 Delhi MLA Raghav Chadha and Captain Amarinder Singh
Chandigarh: Reacting to the unnecessary and ridiculous statement of Congress state president Navjot Singh Sidhu, the Aam Aadmi Party (AAP) Punjab co-in-charge and Delhi MLA Raghav Chadha have termed Navjot Singh Sidhu as Rakhi Sawant of Punjab politics. In his statement, Raghav Chadha said that Sidhu was suffering from the disease of making absurd statements and hence he made such statements out of habit. He said that Sidhu was not serious about anything and everywhere he was being teased.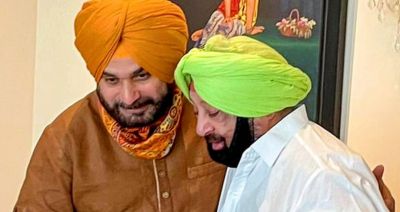 Raghav Chadha said that Sidhu was earlier making daily statements against his government and the head of government Capt Amarinder Singh, but has remained silent after the scolding of the high command. Now seeing nothing else, Navjot Sidhu is talking absurdly against the Aam Aadmi Party convener Arvind Kejriwal. He said after a few days, Sidhu would again start his bragging against Capt Amarinder Singh. Navjot Sidhu has to make any statement whether it is necessary or not, said Chadha. It may be recalled that for a long time now Navjot Singh Sidhu has been the butt of jokes in the media due to his ludicrous statements.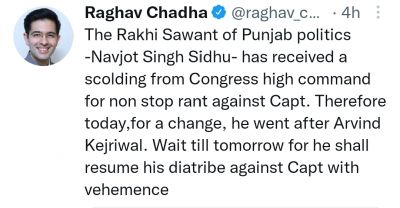 Raghav Chadha said, " The Rakhi Sawant of Punjab politics- Navjot Singh Sidhu- has received a scolding from Congress high command for non stop rant against Capt. Therefore today, for a change, he went after Arvind Kejriwal. Wait till tomorrow for he shall resume his diatribe against Capt with vehemence." 

Taking a dig, the AAP leader further said that even the Congress High Command and the Congress leaders do not take Sidhu seriously. "That is why Sonia Gandhi had refused to meet Navjot Singh Sidhu during his last visit to Delhi," added Chadha. He advised Sidhu to stop making such low-level statements and work on serious issues of Punjab.