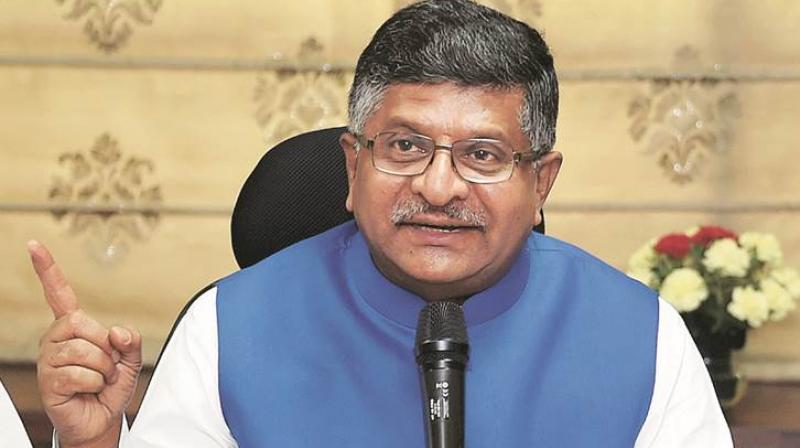 Union Minister Ravi Shankar Prasad
The Cabinet today approved an extension of metro rail network from Noida City Centre to Sector-62, which borders Ghaziabad in UP, with an investment of Rs 1,967 crore, Union Minister Ravi Shankar Prasad said here. The new line will be an extension of the Dwarka-Noida City Centre line of Delhi Metro and is proposed to have six stations. Briefing reporters on the Cabinet decisions, Prasad said the total stretch for the extension is 6.675 km long and it will provide transport facilities to a large number of people living in Noida, besides catering to residents of close-by areas of Ghaziabad. The minister said Noida is expanding in terms of commerce and educational facilities and the extended line will help in greater mobility of people.  The project will also result in the development of more residential and commercial complexes in the region and also help more to move to the satellite town of Delhi, thus decongesting the national capital, an official release said. Under Delhi Metro corridor, metro line will be extended from Noida City Centre to Sector 62, Noida Rs 1,967 crore would be spent on the expansion, Prasad said.
Delhi Metro Rail Corporation Ltd
The Centre's liability will be to the tune of Rs 340. 60 crore on account of grant and subordinated debt for the project, an official release said. The project will be implemented by Delhi Metro Rail Corporation Ltd (DMRC), the existing Special Purpose Vehicle (SPV) of the Centre and Delhi governments. With metro rail in place, there will be less vehicular traffic on roads leading to less congestion, less time and cost of the journey, less consumption of fossil fuel and less environmental pollution, the release said. About 800 staff, including engineers, are currently working at the project site and the DMRC has started the procedure for recruitment of around 200 employees for operation and maintenance of this corridor. About 81 percent progress of civil work and 55 percent of the overall financial progress of the project have been achieved, the release said. The population of Noida as per 2011 census is about 6.42 lakh.