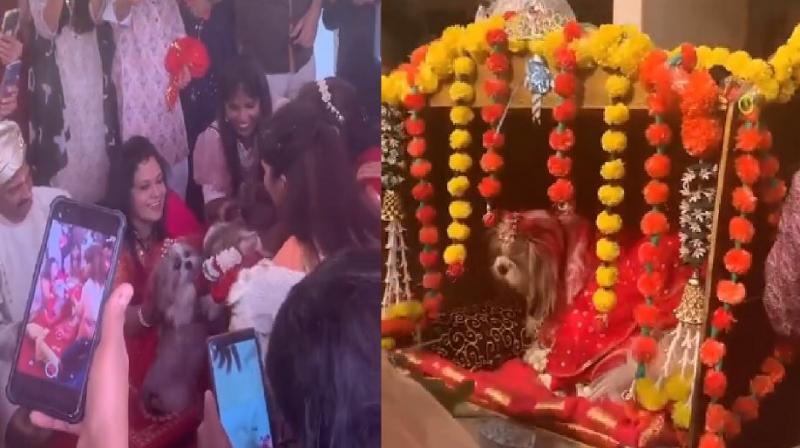 Viral Video
The Video of the Ceremony went Viral on Social Media
Dogs have always been the best friend of human. Caring for a dog, cat, or other pet can help to ease loneliness, relieve stress, anxiety, and depression, and provide unconditional love. In a very unique incident of love for the pet, a family hosted a special wedding ceremony for their pet dog. The video of the ceremony went viral on social media. The initiative is very much liked by the animal lovers.  
Significantly, Just like a typical Indian wedding, the owners of two pet dogs conducted all the essential wedding customs in the ceremony. The video was shared by Hatinder Singh on Twitter. The Names of the dogs getting married were 'Rio' and 'Ria'.
In the video, special food and decor arrangements can be seen at the wedding ceremony, Guests have been invited to bless the dog couple. The groom dog dressed in traditional wedding outfit arrives in an electric toy car. The cute bride donned a red dupatta for wedding. Dancing on the song beats, the bride's family carried her to the wedding site for 'Varmala'. Once the ceremony concluded, the dog bride sits in a 'doli' and goes to her in-laws house. 
WATCH THE VIDEO.....
They Had An Indian Wedding For Their Dogs.

????????????????

Deo Aapne Vichaar... pic.twitter.com/BsxMpi1nmE

— ?????? ???? (@Hatindersinghr3) March 8, 2023