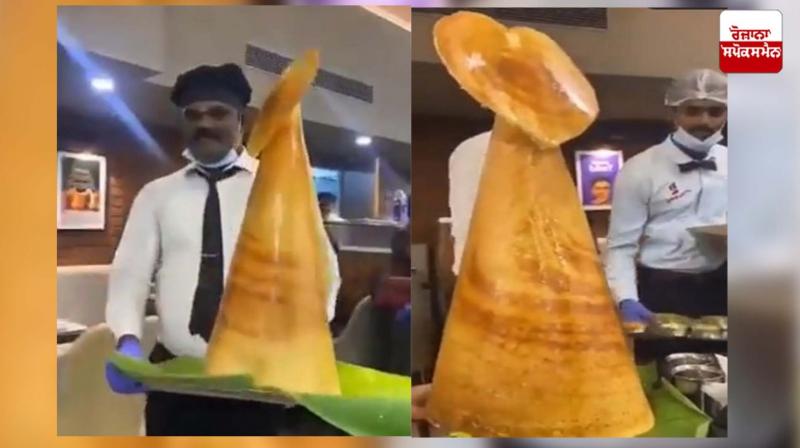 Chandrayaan Dosa
Culinary Creativity Soars with Unique Dosa Celebration of India's Space Triumph
The Triumphant success of India's Chandrayaan-3 lunar mission has sparked nationwide celebrations, and citizens from all corners of the subcontinent have found creative ways to commemorate this historic achievement. Amidst the various forms of jubilation, a unique and delightful celebration has caught the internet's attention - the "Chandrayaan Dosa," a viral sensation created by a restaurant to honor ISRO's remarkable journey to the moon.
The video of the "Chandrayaan Dosa" has been making rounds on social media, capturing hearts with its culinary creativity. The restaurant's chef is seen proudly presenting a towering dosa, artfully shaped like a spacecraft, symbolizing the Chandrayaan-3 mission. But that's not all; on top of this dosa rocket, there's another dosa crafted into a heart shape, adding an endearing touch to the celebratory dish.
In the video, the special dosa is served to an adorable little girl, who can barely contain her excitement. The girl is visibly thrilled as the chef places the delectable creation before her. As she reaches for the heart-shaped dosa positioned atop the rocket, she radiates joy and wonder, adding to the charm of the moment.
Chandrayan dosa dedicated to successful launch#Chandrayaan3 pic.twitter.com/p7Au2Ia0OG

— Kungfu Pande ???????? (Parody) (@pb3060) July 19, 2023
The Chandrayaan-3-themed feast doesn't end with just the dosa. The chef is accompanied by helpers who bring accompanying condiments and sides to complete the culinary experience. The little girl eagerly plucks the heart-shaped dosa from the rocket and proudly poses for the camera, holding the giant heart aloft. With a wide smile, she takes a blissful bite of the creatively crafted dosa, relishing the delectable flavors.