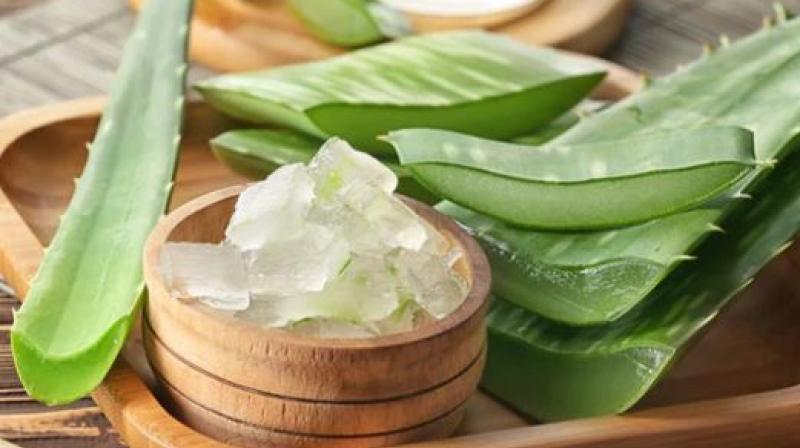 Aloe vera benefits
Aloe vera is very beneficial in relieving Headaches
MOHALI: Aloe vera gel cures many health as well as skin problems. You can easily get rid of many problems like stomach ailments, headache, loss of appetite, dental problems by using Aloe vera. In the summer season, the skin gets many kinds of problems which can be resolved by Aloe vera gel. The vitamins and minerals present in the Aloe vera helps in brightening the skin. 
Aloe vera plants are easy to grow and maintain. The leaves of an aloe vera plant are packed with a soft clear gel that is very hydrating and provides many medicinal benefits. Aloe vera has been used for centuries by people in Greece, Egypt, India, Mexico, Japan, and China for its health benefits. 
Let's know about the health benefits of Aloe Vera.....
- Aloe Vera Juice helps you in constipation and also improves your digestion. Aloe vera contains several anti-bacterial and antioxidant properties, which relieve constipation. Drinking juice every morning on an empty stomach will keep your stomach clean and relieve constipation. 
- Aloe vera is a very good medicine for people suffering from Jaundice. Drink aloe vera juice in the morning and evening to avail benefits.
- Aloe vera works as medicine in cough. Roast its leaves and extract the juice and taking half a teaspoon of the juice with a cup of warm water gives relief from cough.
- Applying aloe vera pulp on the skin hydrates the skin by providing it moisture. It makes the skin look more beautiful. 
- Aloe vera can be beneficial for wrinkles issues on skin. It Tightens the skin naturally so that it does not develop premature wrinkles, which helps in preventing aging. 
- Aloe vera is very beneficial in relieving headaches. If you often complain of headache, you should drink aloe vera juice daily on an empty stomach. By doing this, you will get relief from headache.
- Aloe vera helps to flush out toxins from the body through the body's detoxification process.
- Aloe vera can offer some benefits for high blood pressure patients. Aloe vera powder helped reduce the systolic and diastolic blood pressures of both groups. Two anti-inflammatory components in aloe vera gives many benefits.
- Aloe vera improved glycemic control in people with prediabetes and type 2 diabetes when used as a supplement or in form of juice, a powder, or an extract. 
- Aloe vera intensifies the healing of sunburn. The plant's ability to fight inflammation and the glucomannan present in it helps to reduce wound recovery times, infections, sun-burn and skin redness. 
- Aloe vera has the ability to reduce prostaglandin E2 production which works as an excellent acne treatment. The natural anti-inflammatory properties soothe and diminish the appearance of acne and its scars.