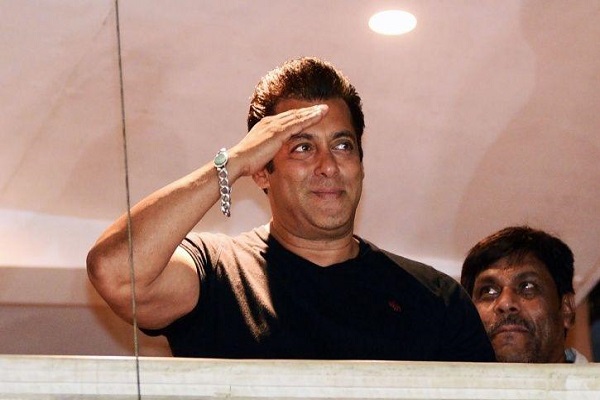 Mumbai: Bollywood superstar Salman Khan arrived at his house here this evening amid bursting of crackers and wild celebrations by fans, hours after getting bail in the 1998 black buck poaching case from a Jodhpur court.

The 52-year-old actor today walked out of the Jodhpur jail after a sessions court granted him bail in the two-decades-old case, in which he was given a five-year prison sentence. He spent two nights in the jail.

Salman reached his residence in the Galaxy Apartments in suburban Bandra around 8 pm.

The moment he reached home, the jubilant fans who had gathered outside his residence started bursting fire crackers amid screams of "welcome bhai".

Wearing a black T-shirt, a pair of jeans and a cap, Salman was seen siting on the front seat of his car. On his way home from the Mumbai airport, he was accompanied by his long-time bodyguard, Shera.

He later came to the balcony of his apartment and waved at the fans. According to sources, the actor took a private jet from Jodhpur that departed around 5.50 pm and landed in Mumbai about 7.10 pm.


Salman's brother-in-law Aayush Sharma, actors Sonakshi Sinha, Saif Ali Khan, Amrita Arora and Sneha Ullal, among others, visited his residence during the day.

As news spread that Salman has been granted bail, the fans started gathering outside his home, anticipating his arrival and for a glimpse of the "Dabangg" star.

Though the actor was in the Jodhpur jail, his family members, including parents Salim and Salma Khan, brothers Sohail and Arbaaz, were in Mumbai and the mood outside his house was sombre till the news of his bail came in.

Some die-hard fans even started dancing on hearing that their favourite actor will be out of the prison soon.

Some were seen holding placards with messages like 'We support Salman', 'We love Salman', 'Welcome Back Salman', while others were seen wearing 'Being Human' t-shirts.

'Being Human' is a clothing line owned by the superstar. "We are very, very happy that he is out of the jail. He has done a lot of good work, helped so many people," a fan said.

"Salman has not done anything wrong, he helps the poor and needy people," another one said.  PTI