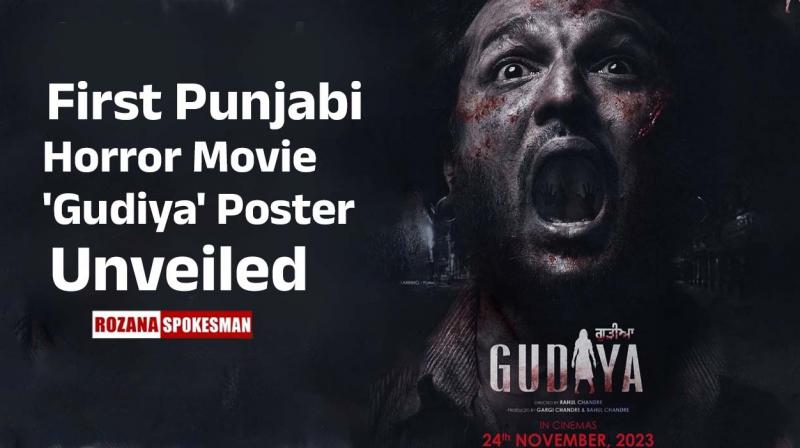 'Gudiya' Poster
Prepare for a Spine-Tingling Experience as 'Gudiya' Redefines Horror in Punjabi Cinema
CHANDIGARH: Punjabi cinema is on the cusp of a thrilling transformation as it delves into the realm of horror with its maiden eerie offering, "Gudiya." Scheduled to hit the silver screen on November 24, 2023, this cinematic endeavor is poised to redefine the horror genre in Punjabi films. The mere release of the spine-tingling poster for "Gudiya" has sent waves of excitement throughout the movie enthusiast community.
The Poster of 'Gudiya' is nothing short of heart-pounding. It unveils a hair-raising image, bloodied hands emerging from the eyes, evoking a spine-chilling sensation. 
"Gudiya" is the brainchild of Cinemaster Entertainment, a production company renowned for its cinematic prowess. Directed by the visionary Rahul Chandra, the film sets out to establish new benchmarks for horror storytelling in the Punjabi film landscape. Produced by Gargi Chandra and Rahul Chandra, "Gudiya" features a stellar cast, including Yuvraj Hans, Sawan Rupovali, Aarushi N Sharma, Shavinder Mahal, Sunita Dhir, Vindu Dara Singh, Himanshu Arora, and Samaira Nair. With such a talented ensemble, the film promises to keep viewers perched on the edge of their seats, enveloped in dread.
A compelling horror movie thrives on a spine-tingling soundtrack, and "Gudiya" offers just that. The music is orchestrated by Gurmoh, celebrated for crafting evocative melodies and will be available on Cinemastermix. Complementing this, the background score, curated by Gurcharan Singh, will intensify the already petrifying moments. Arundeep Teji, the Director of Photography (DOP), is entrusted with ensuring that the audience remains enthralled by the enigmatic 'doll,' and his expertise is bound to create an eerie ambiance.
Get ready to embark on a journey of fear, thrill, and nail-biting suspense. "Gudiya" is scheduled to haunt theaters on November 24, 2023, promising an adrenaline-pumping experience that you simply cannot afford to miss.