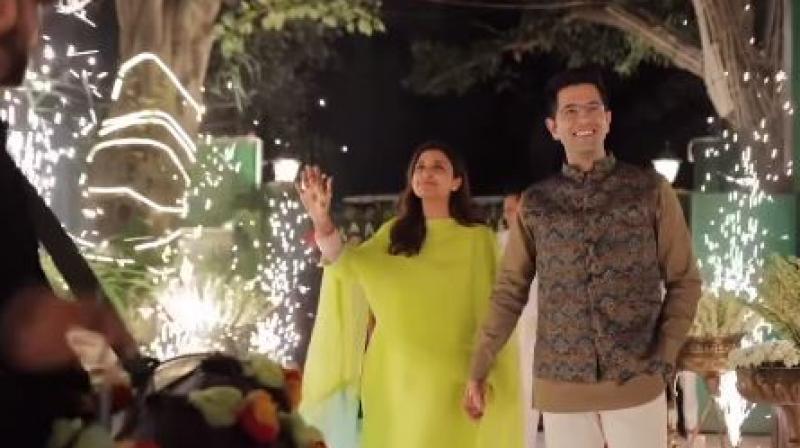 Parineeti Chopra & Raghav Chadha
Newlyweds received grand welcome at Raghav Chadha's Kapurthala House 
DELHI: Popular Bollywood actor Parineeti Chopra and AAP MP Raghav Chadha experienced a heartwarming and festive homecoming as they visited Raghav's Kapurthala House, Delhi, for the first time as a married couple. The occasion was marked by a lively celebration, captured in a delightful homecoming video that has recently surfaced online. 
The homecoming video commenced with a glimpse of Raghav Chadha's house in Delhi, adorned with elegant all-white décor and vibrant flowers. Raghav, dressed in a brown kurta pyjama paired with a Nehru jacket, and Parineeti, looking radiant in a bright lime green salwar suit. The welcoming ceremony was accompanied by spirited fireworks and joyful dancing to the beats of traditional dhol, adding to the festive atmosphere. Parineeti and Raghav participated in various customary rituals as part of this heartwarming homecoming celebration.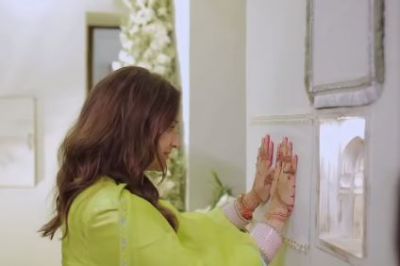 In a playful session of games where they answered questions about each other, Parineeti charmingly revealed that she was the one to express the words 'I love you' first to Raghav. Raghav, in turn, humorously highlighted Parineeti's penchant for humor, declaring her as the funnier one between them. During the video, Raghav affectionately referred to Parineeti as "Chaddha" and expressed his heartfelt appreciation for his new family, stating, "The best family in the world. They make me feel like a queen."
CHECK OUT THE ADORABLE VIDEO HERE.....
Notably, The couple's journey towards marital bliss commenced with an intimate destination wedding held at The Leela Palace in Udaipur on September 24, attended only by close friends and family. The engagement ceremony had taken place on May 13 at Raghav's residence in New Delhi. Following the sunset nuptials, Parineeti and Raghav hosted an evening wedding reception for their guests, graced by the presence of notable figures such as Sania Mirza, Harbhajan Singh, Manish Malhotra, Aam Aadmi Party MP Sanjay Singh, Shiva Sena leader Aditya Thackeray, Delhi Chief Minister Arvind Kejriwal, Punjab Chief Minister Bhagwant Mann, and more.