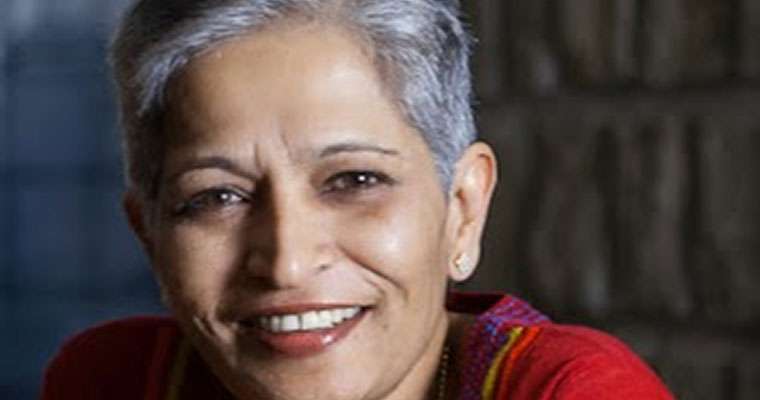 Who will be the next target of the killing squad that prowls the cities to eliminate their ideological opponents? Has violent campaign begun to bump off ideological rivals and free thinking progressive activists in academic, media and other fields? These questions have naturally cropped up following the murder of a progressive journalist Gauri at Bengaluru last evening.
Obviously, there is wide spread anger among journalists, especially the ones who fearlessly wield their pen against the right wing forces, gangsters and other rogue elements following the gory murder of Gauri at her doorstep. Apart from scribes, there is also palpable wave of resentment among writers, social activists and others against her murder. A momentum is building up.
Hers is the fourth planned murder of the progressive writers and free thinking social activists in that part of the country. Gauri, Editor of Gauri Lankesh Patrike, was a staunch crusader against the right wing forces and was known for speaking her mind against communal politics.
Four bullets were pumped in her head to silence her voice and stop her pen from writing against the regressive forces. The way her head and neck portion was targeted by the killer squad, it is obvious that she was killed by well trained hard core killer.
The Bengaluru police have asserted that it has got vital clues about the killer, who came on a bike.
In the same city earlier M.M. Kalburgi, a former VC of Kannada University in Hampi, was killed. Kalburgi was a campaigner against Idol worship and was known critic of the right wing politics.
Likewise Govind Panesar and Narendra Dhabolkar were shot dead by some unidentified assailants. Panesar has been working for farm labour, rickshaw pullers and others working in unorganized sector. He had authored book with a thesis that Shivaji was a secular ruler but his legacy is grabbed by communal elements.
Dhabolkar, a rationalist, who was killed in Pune, was campaigning strongly for getting the anti superstition and black magic bill enacted from the Maharashtra Government.
The news of the Gauri's murder spread like wild fire in the country. Immediately after that journalists from across the country gave a call urging the journalists to hold protest rallies in their respective cities against her murder.
Already protests by journalists have begun in various cities.
Unfortunately, there is one section in media that is strongly positioned against the progressive forces.
There are media houses which have been targeting progressive writers through their TV Channels and publications. Such channels have become tools in the hands of regressive forces busy in injecting communal virus in various streams of life with the objective of dividing the society on sectarian lines.
When writers across the country returned their academy awards and other honours to protest against the growing disregard for freedom of speech and flourishing climate of intolerance besides assault on intellectuals, there were certain TV channels which went to the extent of branding the protesting writers as �anti-nationals�.
Had the media spoken with one voice against the growing culture on intolerance in all spheres of life, there would have not been, perhaps, murderous attack on Gauri..
The �system� has succeeded in creating divisions in media, a part of which has become as intolerant as certain communal forces operating in the social and political domain of the country. Owing to this reason, the democratic space has shrunk considerably.