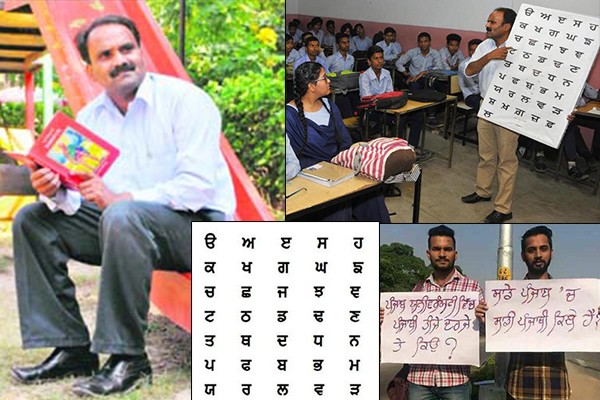 A pro-Punjabi �boli� movement is building up not only in Indian Punjab but also Pakistani Punjab. For the last many days, a lot is happening on Punjabi front on the Punjab University campus. Students, teachers and other pro-Punjabi activists have been strongly protesting against not giving this official language of Punjab a due place in its capital-Chandigarh. Most interesting development is that younger generation of Punjabis is no fighting for the cause of their mother-tongue.
They have been campaigning for writing all sign posts in Punjabi along with other languages such as Hindi and English. There are many signposts on the campus where name of departments and offices are written only in English. Likewise, many sign posts along roads are also in English. Chandigarh is a capital of Punjab. Not to give prominence to the official language of Punjab in its capital is itself highly condemnable act of the authorities concerned.
One fact that is not being noted is that Punjabi elite has turned its back towards Punjabi. They make use of Punjabi only for election purpose. Otherwise, the first preference of these families is English. They send their wards to English schools. The Government schools are only meant for poor sections of the society. The change in the mindset of the elite and middle class has hit the Punjabi language hard.
Punjabis in Pakistani Punjab have also struggling hard to get the Punjabi language introduced at the school level. In Pakistan, Urdu dominates and Punjabi, though spoken by crores of people, has not been given due recognition at the school, college and university level. Recently, a group of Punjabi writers organized a big protest at Lahore to press for the introduction of the Punjabi in educational institutions. Baba Najmi, a popular Punjabi poet, was also part of the protest.
Interestingly, when teachers, students and others will be holding protest march today in support of the Punjabi language, politicians and others will be celebrating new Punjab day at some places. Likewise, their counterparts will be doing same in Haryana to celebrate the new Haryana day. Fifty one years ago, on this day, Punjab was reorganized. While reorganizing Punjab, a new Haryana state was created. Chandigarh, a city built as capital of Punjab, was made Union Territory. Since 1966 when Punjab was reorganized, Punjab's politicians have been trying hard to take back Chandigarh but they failed to get its control. In various agitations launched from time to time for getting Chandigarh, hundreds of Punjabis went to jail over the years.
Only state in the country is Punjab without its proper capital. Officially, Chandigarh is its capital but the State Government has no control of any sort over it because it is governed by the Central Government through Union Home Ministry. Obviously, Chandigarh continues to be ever oozing wound on psyche of people of Punjab.
People of the state should seriously debate the reasons for the neglect of Punjabi language. Why it is net getting its due place even in the government offices. What we have gained and what he have lost since 1966, this is the question that should be on our minds day and night.