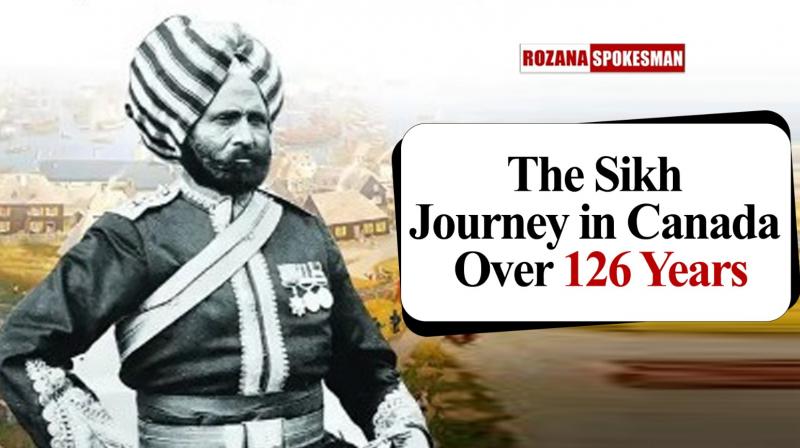 The Sikh Journey in Canada
Major Kesar Singh's Historic Arrival to the Thriving Sikh Community - A Tale of Struggles, Progress, & Representation
In a remarkable journey spanning 126 years, the Sikh community in Canada has evolved from a humble beginning to a prominent presence, now boasting a greater number of Sikh parliamentarians than even their home country, India. Major Kesar Singh, a Risaldar in the British Indian Army, holds the distinction of being the pioneering Sikh settler in Canada, marking the inception of a thriving legacy.
The Sikh population in India stands at 1.7% of the total, while in Canada, it is 2.1%, illustrating the substantial growth and integration of the Sikh community within the Canadian society. Today, Canada hosts 15 Sikh parliamentarians, surpassing the count in India, with 13 Sikhs in the Lok Sabha.
-- The Early Days: Major Kesar Singh and the Komagata Maru incident
Major Kesar Singh, part of a group from the Hong Kong Regiment, made history by settling in Canada in 1897 to celebrate Queen Victoria's Golden Jubilee. This marked the initiation of the Sikh presence on Canadian soil. The journey, however, was not without challenges. The infamous Komagata Maru incident in 1914 highlighted the racial discrimination faced by Indians, where 376 passengers aboard the Japanese ship Komagata Maru were denied entry and were sent back to India.
-- A Struggle for Rights: Voting & Immigration
The Struggle for rights and recognition continued, with Mahatma Gandhi's former secretary, Dr. Durai Pal Pandya, playing a pivotal role in advocating for Sikh voting rights. The Mayor of British Columbia granted Sikhs the right to vote in elections, a significant step towards equality and representation. In the aftermath of the partition of India and Pakistan in 1947, a significant wave of Sikh immigrants found their way to Canada.
-- Integration and Representation: Sikhs in Canadian Parliament
The Sikh community in Canada has not only grown in numbers but has also achieved significant representation. With 15 Sikh parliamentarians, Sikhs have established themselves as influential voices in Canadian politics. Beyond representation, Punjabi, the native language for many Sikhs, has become the third largest language in Canada after English and French, underscoring the community's cultural integration and impact.
Significantly, From the courageous steps of Major Kesar Singh to the present-day representation in Canadian Parliament, the Sikh community's journey stands as a testament to perseverance, resilience, and the enriching contribution of diverse cultures in the fabric of Canadian society.