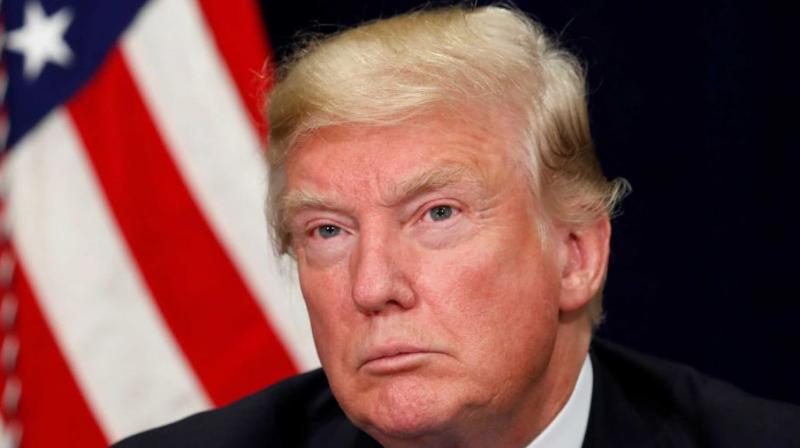 New York (PTI) Donald Trump today claimed that his predecessor Barack Obama had a campaign finance violation that was "easily settled", a day after the US President's former lawyer Micheal Cohen implicated the US President by pleading guilty to campaign finance laws.     In a stunning admission that implicates Trump, his former lawyer Cohen, 51, pleaded guilty to buying the silence of two women about their alleged affairs with Trump.
The admission to paying hush money to porn star Stormy Daniels ahead of the 2016 US election potentially leaves the US president in legal jeopardy.     In a series of tweets, Trump slammed Cohen, saying he is not a good lawyer and is making up stories while praising his former campaign chairman Paul Manafort as a "brave man".
"If anyone is looking for a good lawyer, I would strongly suggest that you don't retain the services of Michael Cohen!" Trump tweeted, a day after Cohen admitted in a Manhattan court that he had paid two women in 2016, at the direction of Trump, to silence them from speaking out their alleged affairs with him in violation of federal campaign laws.     "I feel very badly for Paul Manafort and his wonderful family.
"Justice" took a 12 year old tax case, among other things, applied tremendous pressure on him and, unlike Michael Cohen, he refused to "break" - make up stories in order to get a "deal". Such respect for a brave man!" Trump said in the second tweet.     In a separate tweet, the Presidnet said: "A large number of counts, ten, could not even be decided in the Paul Manafort case. Witch Hunt!"     He said Cohen pleaded guilty to two counts of campaign finance violations that "are not a crime.
President Obama had a big campaign finance violation and it was easily settled!"     Cohen's extraordinary admission in court came just as Manafort was convicted of five counts of tax fraud, two counts of bank fraud and one count of failure to disclose a foreign bank account in a separate court. The jury was unable to reach a verdict on the remaining 10 counts, and the judge declared a mistrial on those charges.
Cohen, 51, yesterday pleaded guilty in the Southern District of New York on charges of tax evasion, making false statements to a federally-insured bank and campaign finance violations.     The most stunning admission he made in court before US District Judge William Pauley was that in 2016, Cohen had made payments of USD 280,000 to silence two women who otherwise planned to speak publicly about their alleged affairs with a presidential candidate,
thereby "intending to influence the 2016 presidential election".     The presidential candidate here is Trump and the payments were to adult film actress Stormy Daniels and a former Playboy playmate, a clear implication of the President.     Cohen's lawyer has said that his client has information that would be of interest to special counsel Robert Mueller, investigating Trump campaign's possible involvement in Russia's interference in the 2016 election and is happy to share it with him.
 "...he stood up and testified under oath that Donald Trump directed him to commit a crime by making payments to two women for the principal purpose of influencing an election.     "If those payments were a crime for Michael Cohen, then why wouldn't they be a crime for Donald Trump?" Lanny Davis, an attorney for Cohen, had said in an interview with MSNBC.     He said "Cohen has knowledge on certain subjects that should be of interest to the special counsel and is more than happy to tell the
special counsel all that he knows.     "... not just about the obvious possibility of a conspiracy to collude and corrupt the American democracy system in the 2016 election which the Trump Tower meeting was all about but also knowledge about the computer crime of hacking and whether or not Trump knew ahead of time about that crime and even cheered it on". PTI