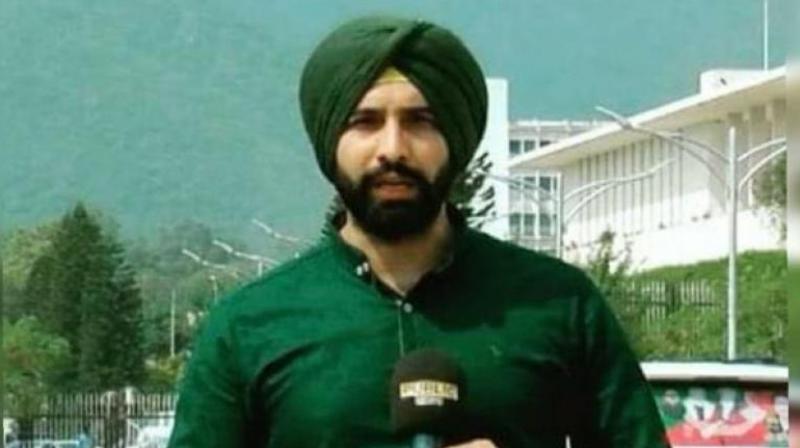 Journalist Harmeet Singh
Harmeet Singh, Prominent Journalist, Grapples with Legal Woes & Professional Setback Amid Defamation Allegations
ISLAMABAD: Harmeet Singh, Pakistan's inaugural Sikh journalist and anchor, finds himself in a precarious situation after being served a Rs 10 billion defamation notice by a Pakistan People's Party (PPP) leader. Singh, known for his contributions to journalism, recently faced professional repercussions after sharing a news story concerning a National Accountability Bureau (NAB) investigation into the PPP.
Singh's predicament began when he shared news on his social media handle regarding a NAB investigation into the PPP, involving former Prime Minister Imran Khan's party. The news stated that a substantial sum, approximately Rs 97 billion, was recovered from the residence of former minister Shazia Maryam. Singh's post followed widespread dissemination of this information by local news channels and independent journalists from Sindh.
However, upon receiving a complaint from former minister Shazia Maryam, Singh was reprimanded by his employer, Public TV, and subsequently terminated from his position. Realizing the news was false, Singh promptly deleted the tweet and issued a written apology to Shazia Maryam, acknowledging his error. Regrettably, Shazia responded by initiating a legal proceeding, seeking Rs 10 billion in damages for defamation.
Expressing the grave implications of these events on his career, Singh, who also manages a YouTube channel, emphasized that media houses in Pakistan have seemingly closed their doors to him. He lamented, "It is becoming very difficult for me to live. I got many job offers from foreign channels but I wanted to work for my country, but I didn't know that this country is an elite club."