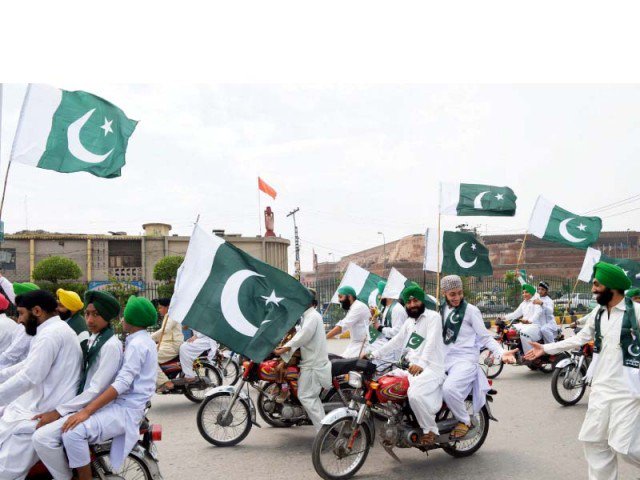 Peshawar: Of the dozens rallies on the Independence Day of the country, it was 'Peshawari Singhs Azadi motorbike rally,' which turned out to be the biggest crowd puller on Tuesday.
Dressed in their traditional attires, hundreds of Sikh youth rode their bikes from Mohallah Jogan Shah, the historical locality of Sikhs in Peshawar near Dabagri area of Peshawar, with beat of drum. They passed through different roads of the city and reached the Jinnah Park to cut the cake.
The Sikh elders said that unlike the past, this year, the Independence Day celebrations were not limited to their Gurdwaras and they came out on the roads and parks to celebrate the day and tell the world that here is a complete peace.
After the rally arrived at Jinnah Park, Sikh elders cut the cake and offered prayers for the peace and prosperity of the country.
"This is our country and for its peace and prosperity, we are always ready to offer any sacrifice," said Baba Jee Charanjeet Singh. "We love Pakistan. Let there be no wars, no hate, and discrimination. This is what our Guru Nanak's philosophy also teaches us."
He added that the bike rally also aims to wish happy Independence Day to whole Pakistan from Sikhs.
Before the rally got underway, Sikhs youth started thronging to Mohallah Jogan Shah from different parts of the city where preparations were under way for celebration since night. They were preparing green and white national flags, arranging for green shirts and their traditional green turbans.
"It is a day of celebration, we have come all the way to celebrate the day with full unity," said Sahib Singh. He made it clear that separate rally did not mean that they have not participated in celebrations with other countrymen.
"But the purpose of this separate rally is to show the world that there should be no doubt in the minds of any enemies about our love for Pakistan, its people and that we are living here in peace," Sahin Singh said.
Sikh elders said they were busy in celebrations since last night, when the traditional hullabaloo of the Independence Day started after the youth removed silencers from their bikes and danced to loud music till late night.
On their way during the rally Sikh youth also made circles and performed traditional dandia dance with a pair of colourfully decorated sticks in hands as well as traditional Pashtun attan dance and received applause from the onlookers.
Baba Jee Gorpal Singh said that in the past years, Sikhs celebrated independence in Lahore and Wagah border, but this year, they have changed the plan and decided to hold celebration in their own city, Peshawar.
"It was first ever rally in which 150 bikers participate," said Gorpal. He added that Christians, Hindus and Muslim youth also taken part this Azadi Rally to show unity their unity to world.
"The purpose of the rally was also to show the world that we are living here in a complete peace and face no problems or discrimination," Gorpal Singh told.