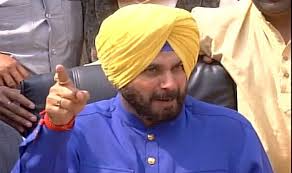 Ferozepur: A district level independence day function was today held here at Shaheed Bhagat Singh stadium where the Tourism and Cultural Affairs Minister, Punjab, Mr. Navjot Singh Sidhu was the Chief Guest and he unfurled the National Flag on the occasion. The minister took salute from the march past presented by the contingents of Punjab Police, BSF, Indian Army, Women's Wing of Punjab Police, Punjab Homeguard and NCC Scouts and Guides.
Addressing the people of the district on the occasion, Mr. Sidhu said that the country has attained freedom owing to the sacrifices made by the scores of freedom fighters and on this occasion we pay heartfelt homage to all the martyrs of the freedom movement and also those who suffered untold hardships while fighting to get the country liberated. He also said that Punjab would be developed on all parameters under the leadership of Chief Minister, Captain Amarinder Singh who has taken historical decisions with regard to eradicating corruption, ending VIP culture, obliterating drug menace, abolishing DTO system, waiving off farm debt in the short time that his government has taken over. He also said that these pathbreaking measures would have far-reaching results.
The minister further said that every inch of land in Punjab is replete with the sacrifices of the martyrs and Ferozepur has the honour of being the land of martyrs. He also divulged that the Punjabi people have made 80 percent contributions in the freedom movement which is a source of pride for the country. Disclosing more, he said that National Martyrs Memorial at Hussainiwala, Historical Gurudwara Saragarhi, Battles of anglo-sikh war—Mudki, Ferozshah, and Sobhraon would be developed as the historical centres of tourist attraction. He also added that soon a special team under the leadership of Chief Minister Captain Amarinder Singh would visit Ferozepur and make announcements on the development of historical spots besides other facilities aimed at boosting tourism.
Making a special announcement, the minister said that the Chief Minister has decided to organize a state level function on the occasion of 'Saragarhi Divas' on 12th September which would be a holiday throughout Punjab and a grand state level function would be held at historical Gurudwara Saragarhi.