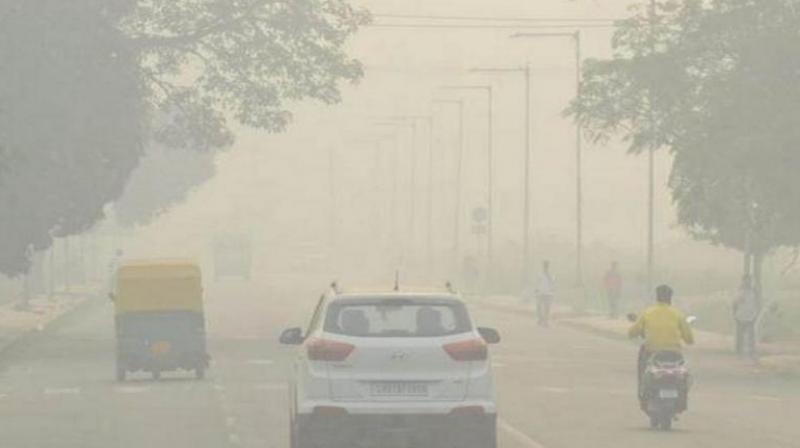 Air Pollution
Air Pollution: Post-Dussehra Celebrations Trigger Alarming Surge in Pollutants, Urgent Measures Required for Air Quality Improvement
Air Pollution:  Chandigarh, known for its relatively cleaner air compared to larger cities, has taken a disheartening turn in recent air quality reports. Data released on Tuesday revealed a concerning 65% increase in air pollution levels in the city. The maximum PM 10 content reached 183, while the maximum PM 2.5 level soared to 293. This abrupt deterioration in air quality follows the Dussehra celebrations in Chandigarh, signifying the immediate need for corrective measures.
The Total Air Quality Index (AQI) for Chandigarh on Tuesday was documented at 117, falling within the 'moderate' category. A closer examination of data from two out of three Continuous Ambient Air Quality Monitoring Stations (CAAQMS) identified a significant spike around 9 pm on Tuesday night. This surge in pollution levels coincided with the burning of effigies of Ravana, Meghnada, and Khumbakaran during the Dussehra festivities, which took place in at least 25 locations across Chandigarh.
Despite the substantial expenditure of Rs 6,900 crore over the past four years as part of the National Clean Air Program (NCP) aimed at improving air quality in India, the air quality in the ten most polluted cities has only seen marginal improvements.
Notably, Urgent measures are now needed to address the worsening air quality in Chandigarh. Citizens are encouraged to adopt eco-friendly commuting options such as walking, cycling, or carpooling to reduce vehicular emissions. Additionally, as the festive season, including Diwali, is approaching in November, when stubble burning often peaks, public transportation should be favored over personal vehicles.