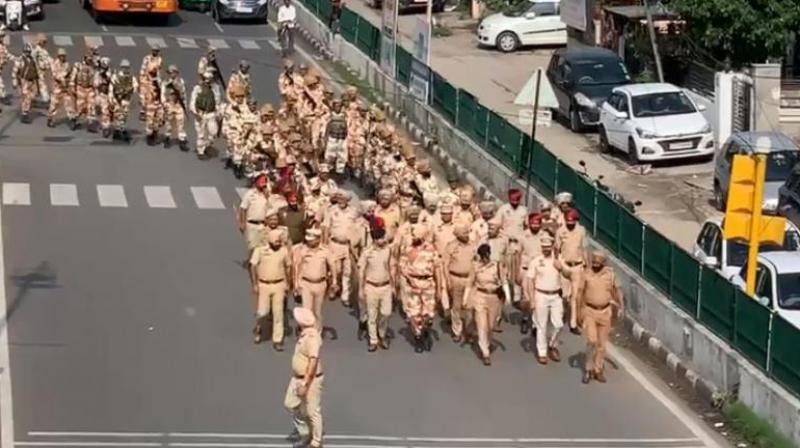 Police conducted Flag march in all districts of Punjab
A total of 112 persons have been arrested So Far
CHANDIGARH: Punjab Police continued its crackdown on Waris Punjab De (WPD) elements wanted on criminal charges, and also made preventive arrests of persons attempting to disturb peace and law & order in the state.
In a Press Release, Official Spokesperson of the Punjab Police said that Waris Punjab De chief Amritpal Singh remains a fugitive and efforts are being made to arrest him. On Sunday, Flag marches by district police and Paramilitary Forces (PMF) companies led personally by Senior Superintendents of Police (SSPs) and Commissioners of Police (CPs) have been held all over the state. He said that the Peace Committee Meetings in all districts have also been held and there is complete peace and harmony in the state.
During the ongoing operations against WPD elements and persons attempting to disturb peace and harmony in the state, another 34 arrests were made throughout the state on Sunday (March 19). A total of 112 persons have been arrested so far.
The Spokesperson said that during the ongoing search operations, an abandoned ISUZU vehicle bearing registration number PB10FW 6797 has been recovered from village Salina, Police Station Mehatpur, district Jalandhar Rural. The said vehicle was used by Amritpal Singh while police were on chase. A .315 bore rifle along with 57 live cartridges, a sword and a walkie-talkie set has been recovered from the abandoned vehicle, he said, adding that, the vehicle is owned by Manpreet Singh of village Anokharwal, SBS Nagar, who has been arrested.
Flag marches led by CPs/SSPs were jointly conducted all over the state by the Punjab Police and companies of Central Para Military Forces. Peace Committee Meetings have been held jointly by the Civil Administration and Punjab Police in all the districts of the state in order to appeal to the citizens to maintain peace and harmony.
The spokesperson further said that strict action as per law will be taken if anyone found spreading fake news, rumors and hate speech. All citizens, media persons and social media platform intermediaries are requested to act in a responsible manner and to fact-check the authenticity of the content being shared by them on various social media, electronic media and print media platforms, he added.
He also appealed to the citizens not to pay heed to fake news and rumors and to fact-check authenticity from the police. All mischievous elements attempting to disrupt peace and harmony in the state shall be dealt with strictly. Punjab Police is committed to maintain law & order and rule of law in the state, he added.