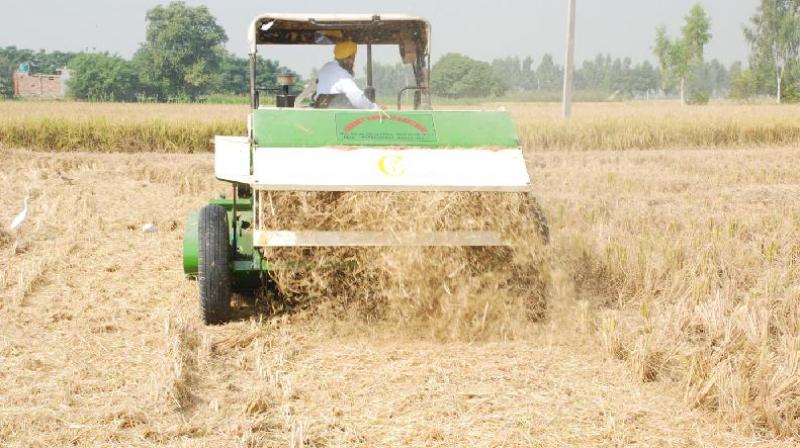 Most farmers in Punjab use combine harvesters for paddy harvesting
'It takes just a matchstick': Punjab farmers take the cheaper way out to deal with paddy stubble...
PTI, Ludhiana (19th Oct'18): Mid-afternoon, Upender is busy tossing paddy residue into the fire he started over an acre of land. Huge, thick clouds of smoke rise into the air and engulf the neighbouring fields before the wind blows them away. After about 15 minutes, the fire is out, leaving only the ash and a question - Have the efforts of the Punjab government to check stubble burning failed? The administration is making serious interventions to curb stubble burning, but the farmers in the state continue to defy the ban on the practice amid a lack of financial incentives.
The state government is providing 50 to 80 per cent subsidy to farmers and cooperative societies to buy modern farm equipment for in-situ management of paddy straw and running a massive awareness campaign against stubble burning. It made stubble burning a punishable offence in 2013 and continues to issue challans to erring farmers under the 2015 order of the National Green Tribunal (NGT), says Karunesh Garg, member secretary, Punjab Pollution Control Board (PPCB). The Punjab government says around 25,000 machines of different kinds are being distributed to farmers and cooperative societies this year for the management of paddy straw in the fields itself.
National Green Tribunal
The Centre has sanctioned Rs 669 crore to the Punjab government -- for 2018-19 and 2019-20 -- for providing subsidy on agri-implements like straw management system (S-SMS), happy seeder and straw chopper, according to the PPCB. However, farmers claim it is unimaginable for everyone to buy the expensive modern farm machinery to manage stubble. They say they cannot afford to rent it as the rising diesel prices have increased the input cost manifold. Sarabjeet Singh of Rola village in Ludhiana district has hired a daily wager to set fire to paddy straw in his fields for Rs 300 a day.
He says farmers generally do this in the evening to dodge NASA satellites and Punjab government officials tasked with reporting incidents of stubble burning. "This irresponsible government has imposed sophisticated machinery on small farmers who cannot afford such costly equipment," Sarabjeet Singh claims. Asked if stubble burning in Punjab affects Delhi's air quality, he says, "Delhi's air is already polluted. The city government should close down the factories that lead to air pollution."  Nearly 23 million tonne of straw is produced in 30 lakh hectares under paddy cultivation in Punjab, says Manjeet Singh, the head of the department of farm machinery and power engineering at the Punjab Agriculture University.

Punjab Pollution Control Board
Most farmers in Punjab use combine harvesters for paddy harvesting. The state government has made it mandatory for farmers to install the S-SMS on their combine harvesters to deal with the stubble. "After the harvester reaps paddy, thick bunches of plants with their roots deep in the soil and loose stubble remain. The S-SMS, which costs Rs 1-1.15 lakh, chops and evenly spreads the loose stubble in the field. Thereafter, the turbo happy seeder (THS), costing Rs 1.25 lakh, can be used to directly sow wheat in the soil, from above the straw," explains Subhash Sharma, an agricultural scientist.
Other option are the rotary drill and the mulcher that incorporate the stubble into the soil. "Small farmers, who own two to three acres of land, have to spend Rs 4,000-5,000 per acre if they use the machinery to prepare the field for wheat sowing, while it takes just a matchstick to burn the stubble. We will continue to burn our paddy straw. We are not bothered if the government registers cases against us," Sarabjeet Singh says. "There are around 50 brick kilns within a radius of four kilometres. Why are we being blamed for pollution?" he asks.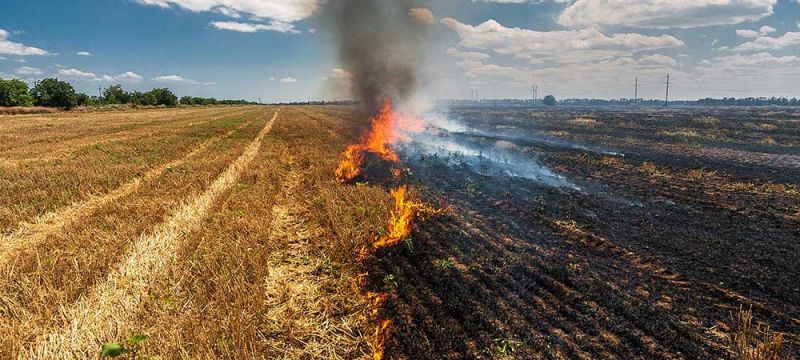 Paddy Residue Burning
Karnal Singh (64), a resident of Jaspal Bangar village, says around 50-60 litres of diesel is needed to operate the combine harvester, the rotavator, and the mulcher in an acre. At Rs 75 per litre, that is an expenditure of around Rs 3,750-4,500. "It doesn't cost a penny if we set fire to stubble. Only Rs 1,000-1,200 is spent on around 15 litres of diesel used for ploughing the field and a lot of time is saved," he says. The Krishi Vikas Kendras are also impressing upon the farmers to adopt early-ripening rice varieties so that after its harvesting, they have enough time to prepare the field for wheat sowing.
However, Karnal Singh says the yield decreases if they use early-maturing rice varieties. An 80 per cent subsidy on the machinery for cooperative societies isn't helping either. Jitendra Pal Singh (48) says there are 800 members in the village's cooperative society, which recently purchased three S-SMS, three happy seeders, two rotavators and a mulcher. "Not everyone can use the machinery in the three-week window between rice harvesting and wheat sowing. The farmers will burn the stubble if they do not get the equipment," he says.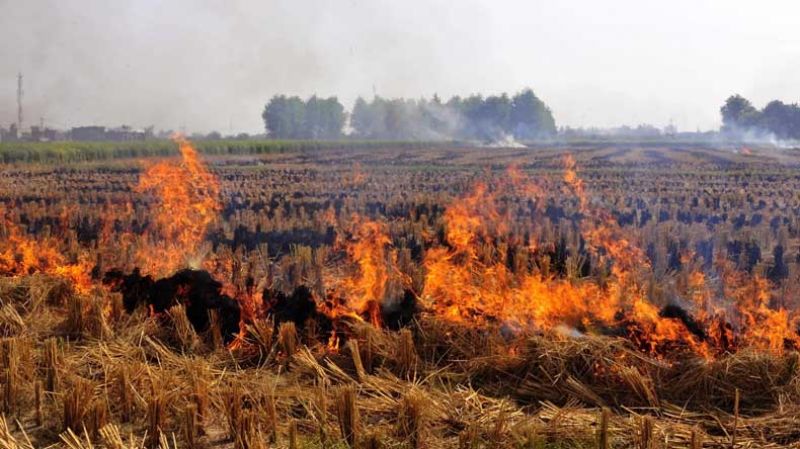 Farmers will burn the stubble if they do not get the equipment
Karnal Singh says he didn't burn the stubble for two years and used the machinery to manage it, but he suffered losses. "I will restart burning stubble if I keep accruing losses," he says. Karam Singh (45) from Sahnewal Khurd village says, "Twenty-five to 30 quintal of rice is harvested in an acre of land. If the government gives us Rs 200 per quintal, it will take care of everything. The government can also give a subsidy on diesel. Ultimately, everything boils down to cost."  Last year, 42,000 incidents of stubble burning were reported from Punjab and fines totalling Rs 65 lakh were imposed on the erring farmers.