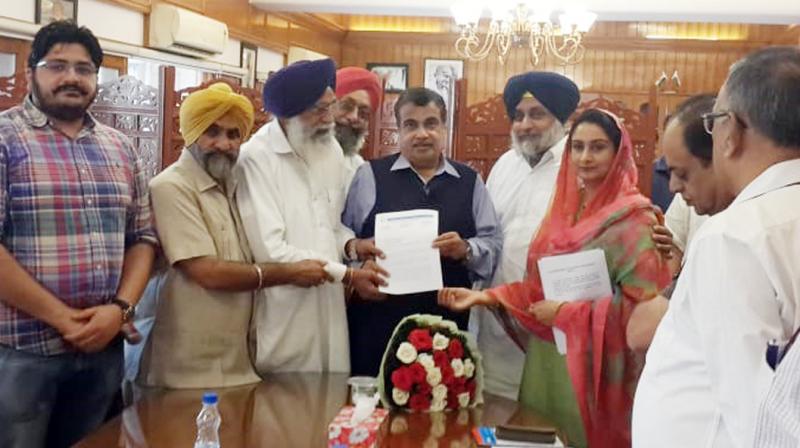 Chandigarh :  Union road transport and highways minister Nitin Gadkari today accepted Shiromani Akali Dal (SAD) president Sukhbir Singh Badal's request to take up construction of the Jalandhar-Ajmer Shareef expressway in the first phase of the national expressway project scheme. An assurance to this effect was given to the SAD president when he called on the Union minister today along with union food processing industries minister Harsimrat Kaur Badal at Delhi today.
The SAD president briefed Mr Gadkari that there was an urgent need to expedite the project in view of the difficulties being faced by the trade and industry in Punjab in transporting goods to Mumbai and other ports. He said the Jalandhar-Ajmer Shareef expressway, which is further linked to Mumbai, would reduce time travel to Mumbai by two days while bypassing Delhi besides fuel savings. He said shifting the project to phase one of the expressway scheme would give a big boost to trade and industry in Punjab.
Mr Badal thanked Mr Gadkari for accepting this request and said earlier also the Union road transport and highways ministry had cleared this project after he had taken it up with Mr Gadkari. In another development, Union minister Harsimrat Badal urged Mr Gadkari to change the classification of combine harvester from category of "construction equipment vehicle and combine harvester" and reclassify it under the "agriculture equipment, 
 head to avoid any ambiguity regarding registration fee being charged by district transport officers by treating combine harvesters as commercial vehicles.  Briefing the road transport minister, Mrs Badal said tractors were already mentioned as "agriculture equipment" and no registration fee is charged on them. She said since combine harvesters were also used to harvest agriculture crops only they should be treated as agriculture equipment under the Motor Vehicles Act.
Acting on this plea, the union road transport minister said combine harvesters would be exempted from registration fee and said due instructions would be passed in this regard soon. Representatives of All India Combine Manufacturers' Association, who were also present on the occasion, thanked Mrs Harsimrat Badal for working pro-actively to get this relief extended to them from Mr Nitin Gadkari, whom also they thanked profusely.