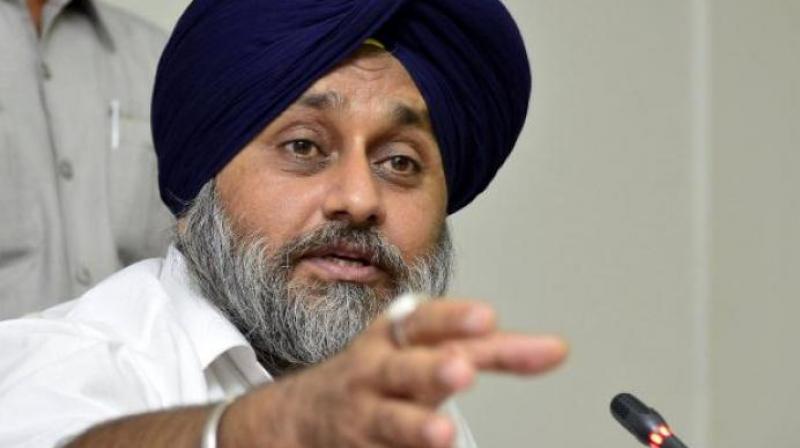 Chandigarh :  Shiromani Akali Dal (SAD) president Sukhbir Singh Badal today asked Congress president Rahul Gandhi to practice what he preached and direct the Punjab government to reduce State taxes on petrol and diesel by Rs ten per litre immediately to give relief to the common man.
Stating that political 'tamashas' would not help the people, but concrete action would, the SAD president said Rahul Gandhi should immediately direct chief minister Capt Amarinder Singh to follow the example of Andhra Pradesh and Rajasthan and reduce VAT and surcharge on petrol and diesel immediately. "Rahul should also tell Punjabis why he has not given this direction till now even though petroleum prices in Punjab are the highest in North India and the third highest in the country".
Exposing the Congress double speak on this most sensitive issue which concerned the well being of the common man, Mr Sukhbir Badal said the Punjab government was collecting an own tax of Rs 23 and Rs 11per litre  respectively on petrol and diesel. He said on top of this the State was receiving 42 per cent of the excise collected on the petro products in the form of devolution from the centre. 
"This amounts to another Rs 6 per litre devolution taking the State share in taxes on petrol alone to Rs 29 per litre and and resulting in an annual tax collection of Rs 5,800 crore from petroleum products. Since development is at a stop, the State has nothing to show for utilization except unproductive expenditure. Surely the government can give relief to the common man as well as the farming community by reducing in share in petrol and diesel prices by Rs 10 per litre", he added.
The SAD president also pointed out that Capt Amarinder Singh had while announcing the party's election manifesto in the run up to the 2017 assembly elections promised that the Congress if elected to power would reduce fuel prices substantially. "Capt Amarinder is already one and a half years too late in delivering on this promise. He should not delay taking this step any further".
Speaking about the deceitful politics of the Congress party, Mr Badal said it was condemnable that while Rahul Gandhi was demanding that petrol and diesel prices be brought under the GST regime, the Congress government in Punjab was flatly refusing to do this. "Rahul and the Punjab government should both explain this contradictory stand instead of shedding crocodile tears on petrol and diesel prices". 
He said not only this, earlier when Pradesh Congress president Sunil Jakhar had announced that he would prevail upon his party's government to reduce tax on petroleum products, State finance minister Manpreet Badal had refused to give a relief of even one paisa. "This proves that the government is only resorting to sham dharnas on issue of petroleum prices to shift attention from its own failure to address the issue.
It is also deflecting attention from the burning issues of Punjab be it the Congress failure to waive off farmer loans of Rs 90,000 crore, reneging on the 'ghar ghar naukari' promise, refusing to hike social welfare benefits and even colluding with radical forces to drive a wedge in Punjab society and endangering hard won peace and communal harmony in the State".