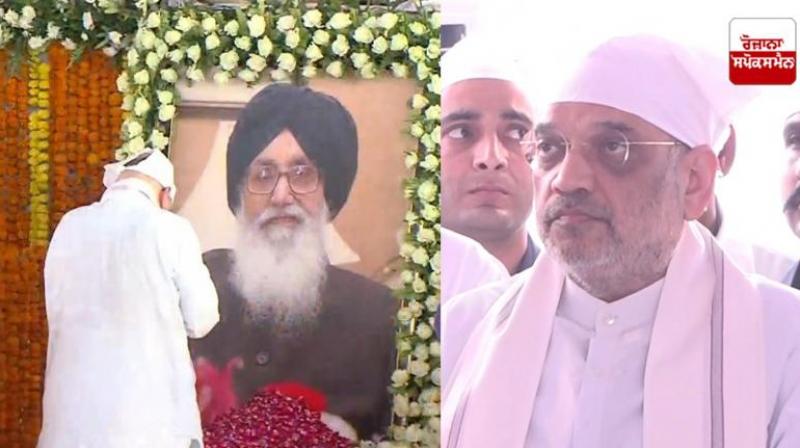 Amit Shah Attends last prayer of Late Parkash Singh Badal
Badal Sahib's departure is a great loss for the country: Amit Shah
Sri Muktsar Sahib: Union Home Minister Amit Shah reached village Badal to attend the last prayers of Late Parkash Singh Badal, the patron of Shiromani Akali Dal and 5-time Chief Minister of Punjab. On this occasion, he shared grief with Sukhbir Singh Badal and Harsimrat Kaur Badal and said that Badal Sahib's departure is a great loss for the country, it is very difficult to fill this gap for a long time.
He said that in the Shiromani Akali Dal, Parkash Singh Badal stood like a rock against emergency to protect democracy. Amit Shah said that the Sikhs have lost their soldier and the country has lost a devotee. Farmers have lost their true sympathy. If a person leaves after 70 years of public life and leaves no enemy behind, such an example can be found in the life of Badal Sahib.
He said, "I have met Badal Sahib many times. Whenever I met with them, I got to learn something. Seeking his advice in difficult times, he always tried to show the true path. Although our teams were different, he gave the same suggestion which was right for my team as well. Only a great person can suggest with such transparency."
Amit Shah further said, "Based on the record I can say that he laid the foundation of new Punjab. With his departure, the head of the community left. He dedicated his whole life for Hindu-Sikh unity. Despite facing opposition in politics, Badal Sahab always tried to maintain unity."
Amit Shah said that since 1970 till today, whenever Badal Sahab got an opportunity to stand for the country, he never turned his back. He set an example by staying in jail for the longest time. He stood like a rock to protect democracy against emergency.
Apart from Amit Shah, Lok Sabha Speaker Om Birla, Dera Beas chief Gurinder Dhillon, former Haryana Chief Minister Om Prakash Chautala, Assam Cabinet Minister Atma Vohra, Sri Akal Takht Sahib Jathedar Giani Harpreet Singh and Shiromani Gurdwara Parbandhak Committee President Advocate Harjinder Singh paid homage to Late Parkash Singh Badal.