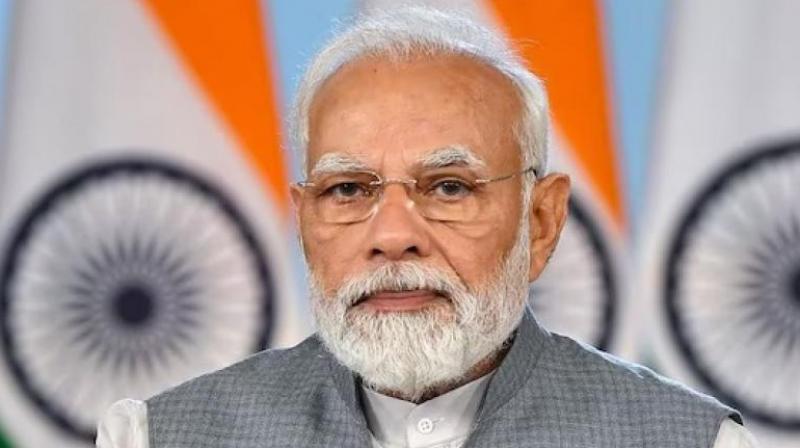 PM Modi
Posters with slogan 'Modi Hatao Desh Bachao' were put up in some parts of Delhi
NEW-DELHI: The police have registered 100 FIRs in the case of putting up objectionable posters against Prime Minister Narendra Modi in the National Capital. All the cases have been registered under the Printing Press Act and the Property Act. Posters were also seized from the van leaving the Aam Aadmi Party (AAP) office. Six people have been arrested in the matter.
According to the police, posters with the slogan 'Modi Hatao Desh Bachao' were put up in some parts of Delhi. These posters did not have the details of the printing press. A constable of the IP State Police Station caught a man named Pappu Mehta while putting up the poster. 38 bundles of posters were found from him.
The Aam Aadmi Party (AAP) has termed the police action as dictatorship. The party wrote on its official Twitter handle – The dictatorship of the Modi government is at its peak. What is so objectionable in the poster that Modi ji registered 100 cases. PM Modi you may not know, but India is a democratic country, why so much fear from the poster?
The Aam Aadmi Party will hold a protest on Thursday over the poster. Delhi CM Arvind Kejriwal, Punjab Chief Minister Bhagwant Mann will also participate in this protest at Delhi's Jantar Mantar. According to a news agency, Special Commissioner of Police Dipendra Pathak said, "Two printing press firms had received an order to make 50,000 such posters. Employees associated with the companies put up many such posters in different areas of the city from late Sunday night to Monday morning."
The police have arrested the owners on the charge of not printing the name of the printing press. Delhi Police said that the order to print the poster was received on March 17. After that these posters were given to different people to paste on the night of March 19. The work of pasting the posters continued till the morning of March 20.
According to news report, a similar case came to light two years ago, when posters criticizing Modi were put up during the Covid vaccination drive in Delhi. Then Delhi Police arrested 30 people while 25 F.I.R. were registered. During the election of the standing committee of Delhi MCD, commotion was witnessed in the house over the matter. After this, the Delhi High Court stayed the Mayor's orders to re-elect the MCD Standing Committee. On the other hand, a poster war started on social media between Aam Aadmi Party and BJP on this issue.